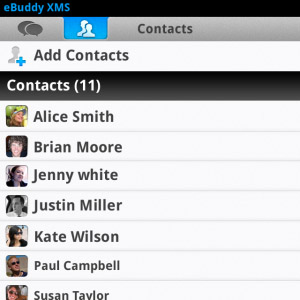 Tag:
eBuddy XMS
Overview :
eBuddy XMS v1.2.0 for blackberry phone apps
OS 5.0,6.0,7.0
size:1.35 MB
model: Pearl 9100 3G, Pearl 9105 3G, Curve 8520, Curve 8530, Curve 8900, Curve 8910, Curve 8980, Bold 9000, Curve 9300 3G, Curve 9330 3G, Tour 9630, Bold 9650, Style 9670, Bold 9700, Bold 9780, Bold 9788, Curve 9350, Curve 9360, Curve 9370, Storm 9500/9530, Storm2 9550/9520, Torch 9850/9860, Torch 9800, Bold 9790, Torch 2 9810, Bold 9900/9930, 9981

Description:
New eBuddy XMS – Do more than SMS!
• Free, real-time messaging for smartphones
• Message any way you want – with text, pictures, emoticons and more
Go beyond words. eBuddy XMS takes messaging to the next level because:
IT'S FREE
XMS all you want! eBuddy XMS uses your Internet connection.
That means you can easily share unlimited messages with your XMS contacts.
IT'S FLEXIBLE
XMS how you want. From quick hellos to casual conversations… using texts, pictures, emoticons and more. It's up to you.
IT'S SOLID
Messaging you can count on. eBuddy XMS shows you when messages are sent and read. And you'll enjoy stable performance, built by the messaging pros at eBuddy.
PLUS!
Add and invite friends in a snap; share pictures; great looking, easy-to-use; 100+ emoticons … and lots more. Download eBuddy XMS to experience it all.
EXCLUSIVE
Also access eBuddy XMS from any computer! Web XMS allows you to send and receive all your XMS's from the comfort of your keyboard. Connect the mobile app to Facebook and visit http://web.ebuddyxms.com to access it!
eBuddy XMS. Now available on BlackBerry® and other smartphone platforms.
XMS: Finally an easy term for those WhatsApp, LiveProfile, Facebook Messenger, Kik, PingChat!, KakaoTalk, BBM and Beluga messages!
Get in touch with your questions and comments:
Facebook – www.facebook.com/eBuddyXMS
Twitter – www.twitter.com/xms
Support – support@ebuddyxms.com
By using eBuddy XMS, you agree to the Terms of Use and Privacy Policy stated on www.ebuddy.com/privacy.php
Come on, download this BB apps for your BB phone.