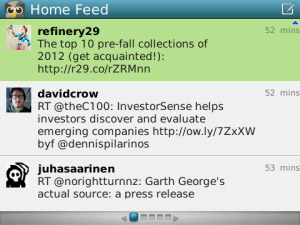 Tag:
9981 apps
HootSuite
9360 apps
Overview :
free HootSuite v1.0.0 for blackberry os7.0 apps
size:1.88 MB
Model: Curve 9350, Curve 9360, Curve 9370, Torch 9850/9860, Bold 9790, Torch 2 9810, Bold 9900/9930, 9981

Description:
Manage multiple social networks on the go with HootSuite for BlackBerry®. Supports Twitter, Facebook, LinkedIn, and Foursquare accounts.
Update your Twitter feed, check in on foursquare, view your LinkedIn connections, and comment on your friends' Facebook posts wherever you are. Upload photos, receive notifications, view click stats, and more. Simple, elegant, and powerful, HootSuite allows you to send and schedule Twitter updates from anywhere.
Check out http://HootSuite.com -- you'll find a ton more features on our web version, including advanced stats, team workflows, assignments, RSS feeds, and more.