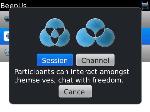 Tag:
9780 apps
99xx apps
BeepUs
Overview :
free BeepUs v1.0.3 for blackberry apps
os 5.0
Model:
Blackberry 9300(Kepler), 9330/Blackberry 89XX Curve Series (480*360): 8900(Javelin), 8910(Atlas), 8930, 8950, 8980/Blackberry 96XX Tour (Niagara) Series (480*360):9600, 9630, 9650(Tour2), 9700(Bold2), 9780, Dakota, Apollo /Blackberry 95XX Storm Series (360*480):9500, 9510, 9520, 9530, 9550(Storm2), 9570(Storm3), 9800(Torch), Torch2/Blackberry Pearl 3G Series (360*400) Devices Models: 9100, 9105, 9670(Style)/Blackberry 99XX (OS 7.0) Series (640*480) Devices Models: 9900, 9930

Description:
Check out the evolution of BBM - BeepUs is a Push to Talk (PTT) and IM Client.
The Application is BBM™ Connected and checks your contact list looking for users from BeepUs.
*PLEASE READ BEFORE DOWNLOAD OR REVIEW*
How it works: (Yes, you need the BlackBerry® Messenger working perfectly)
• Main Screen:
Manage connections (moderated or not), invite friends to download BeepUs and display your contacts that have the application previously installed.
• Connection Screen:
Invite a contact and wait for acceptance. Use convenience keys or space bar to talk or click in the smile icon to have a bbm style chat.
• Voices
Listen the voices any time on Voices Screen, you can save your entire conversation like a unique voice note.
** After installing the new version of BeepUs, please restart your device. **