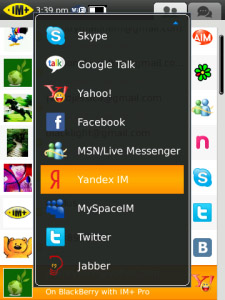 Tag:
9330 apps
9500 apps
IM+ Pro
Overview :
IM+ Pro v9.2.0 for os5.0 apps(try)
OS 5.0
Model : Pearl 9100 3G, Pearl 9105 3G, Curve 8520, Curve 8530, Curve 8900, Curve 8910, Curve 8980, Bold 9000, Curve 9300 3G, Curve 9330 3G, Tour 9630, Bold 9650, Bold 9700, Storm 9500/9530, Storm2 9550/9520

Description:
Chat in MSN®/WLM, Facebook, Skype, Google Talk, Yahoo!®, AIM®/iChat, ICQ®, Jabber®, MySpaceIM, VKontakte, Mail.ru Agent and Yandex Chat in one application.
IM+ Pro is ad-free application, supporting IM Push mode and longer Skype session.
Neighbors: find new friends nearby. Neighbors offers a new dimension of communication in IM+ by providing users the opportunity to find new real life connections and friends with common interests.
Conversation history can be accessed in IM+ Web Messenger at https://plus.im from your desktop computer.
Invite your friends on MSN, Skype, AIM, and ICQ to group chat and enjoy group conversations.
Twitter functionality: View friends' timeline, favorites, direct messages and replies. Post pictures and voice messages to your timeline!
Stay online in IM Push mode and save the battery life. In IM Push mode IM+ is not running, though you remain online and continue receiving IMs as e-mails pushed to your BlackBerry® Inbox. You can reply to them right away. Or choose BlackBerry Push option to see your incoming messages in the notification area.
Send files, photos and voice notes without additional charges. Adios, MMS!
Get all further updates for free.
This product uses Skype™ but is not endorsed or certified by Skype.
Follow @implus on Twitter and "Like" on Facebook for the updates from development team!