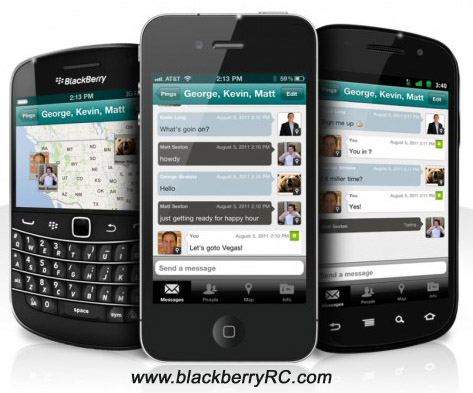 Tag:
9900 apps
PingMe
Overview :
PingMe Messenger v1.0 for blackberry apps
os: 5.0, 6.0, 7.0
Model: Pearl 9100 3G, Pearl 9105 3G, Curve 8520, Curve 8530, Curve 8900, Curve 8910, Curve 8980, Bold 9000, Curve 9300 3G, Curve 9330 3G, Tour 9630, Bold 9650, Style 9670, Bold 9700, Bold 9780, Bold 9788, Curve 9350, Curve 9360, Curve 9370, Storm 9500/9530, Storm2 9550/9520, Torch 9850/9860, Torch 9800, Torch 2 9810, Bold 9900/9930

Description :
Cross-Platform messaging apps are starting to become a dime a dozen. However, PingMe looks to be the closest we've seen to a BBM clone. With the PingMe cross-platform messaging app for BlackBerry, you can:
Real Time Message Receipts - See typing indication, and Sent/Delivered/Read message notifications.
Group Chat - Create dynamic circles/groups as you go.
News Feed - Instantly turns your address book social with updates from your closest friends.
Geo-Location - Find friends nearby with geo-location enabled messages.
Push Notifications - Never miss a message. PingMe tells you when someone sends you a message, even when PingMe is closed.
Simple Friend Finder - PingMe makes it easy to connect with all your friends through your address book, Facebook, direct phone numbers, or the PingMe network.