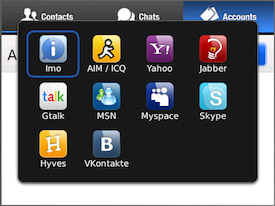 Tag:
imo
Multiprotoco
IM client
Overview :
Multiprotocol IM client imo beta for BlackBerry apps
Description:
Stay connected to your friends on all the protocols imo supports: AIM, Facebook Chat, Google Talk, Hyves, ICQ, Jabber, MSN, MySpace, Skype, VKontakte and Yahoo.
Link your Facebook account to another IM account on imo.im to use Facebook Chat on imo for Blackberry.
See all your friends from all your accounts in one place.
View all your active chats to quickly switch between conversations.
A single login for all your IM accounts.
imo lets you link all of your instant messaging accounts. When you log into a linked account, you will automatically be logged into all of the accounts you have linked.
Log in to imo's BlackBerry app even if you are logged in on your computer.
imo allows you to be signed on from multiple devices at once.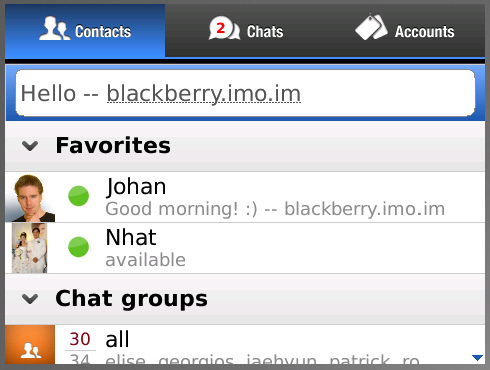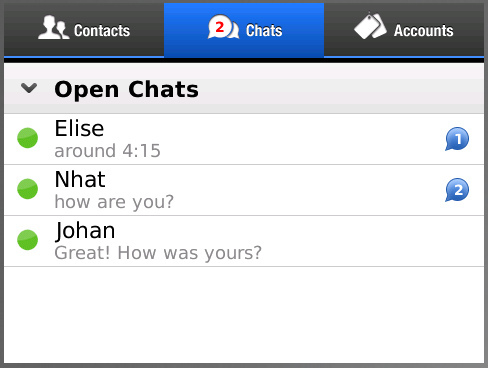 Model:
Blackberry 81XX Series (240*260) Pearl Devices Models: 8100, 8110, 8120, 8130/Blackberry 82XX Series (240*320) Pearl Flip Devices Models: 8200, 8220, 8230/Blackberry 8350i (320*240) Related Devices Model: 8500, 8520, 8530, 9300(Kepler), 9330/Blackberry 83XX Series (320*240) Curve Devices Models: 8300, 8310, 8320, 8330 / Blackberry 87XX Series (320*240) Devices Models: 8700c, 8700r, 8700f, 8700g, 8703e, 8707, 8707g, 8707v .etc /Blackberry 88XX Series (320*240) Devices Models: 8800, 8820, 8830 .etc /Blackberry 89XX Curve Series (480*360): 8900(Javelin), 8910(Atlas), 8930, 8950, 8980/Blackberry 90XX Bold (Onyx) Series (480*320) Devices Models: 9000, 9020(Onyx)/Blackberry 96XX Tour (Niagara) Series (480*360):9600, 9630, 9650(Tour2), 9700(Bold2), 9780, Dakota, 9360(Apollo) /Blackberry 95XX Storm Series (360*480):9500, 9510, 9520, 9530, 9550(Storm2), 9570(Storm3), 9800(Torch), 9810/9850/9860(Torch2)/Blackberry Pearl 3G Series (360*400) Devices Models: 9100, 9105, 9670(Style)/Blackberry 99XX (OS 7.0) Series (640*480) Devices Models: 9900, 9930