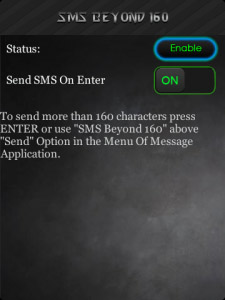 Tag:
sms
Beyond
Overview :
SMS Beyond 160 v1.0.0 for free blackberry apps download
Required Device Software
4.6.0 or higher
Supported devices:
Blackberry 81xx, 82xx, 83xx, 85xx, 87xx, 88xx, 89xx, 9000, 9100, 93xx, 95xx, 96xx, 97xx, 9800, 99xx

Description
Are you irritated with the character limit enforced by the cell phone carriers as 160? Then the app is perfect for the situation!
Now type SMS as long as you want and the app will send the message as one! Perfect for even CDMA devices.

Please read the HOW TO section for more Information!
Features:
* INTEGRATED WITH NATIVE MESSAGE APP
* Compatible with all OS 4.6.0 & above.
* Send SMS of unlimited characters.

HOW TO?
1. After the download, just go to the App under downloads. Enable both the options.
2. Go to SMS application- Compose New SMS.
3. Type as many characters as you want and Press enter (if Option enabled) OR Press BlackBerry Menu
Key and press Send Beyond 160