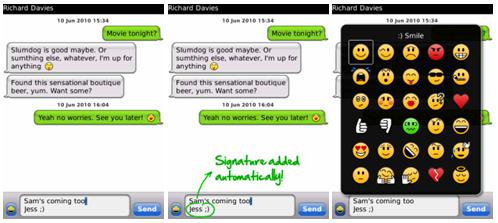 Tag:
curve
Pearl
crunchSMS
88xx apps
Overview :
CrunchSMS v3.9 For Blackberry os4.5 Devices
Supported devices:
Blackberry 81xx, 82xx, 83xx, 85xx, 87xx, 88xx
Description:
CrunchSMS team have announced through their Twitter account that latest version, v3.9 of CrunchSMS app for Blackberry devices was available for free download. This update brings new features and some improvements.
Here's the official changelog of CrunchSMS v3.9 for Blackberry devices ;
* AMAZING: Quick Reply pop-up lets you easily and quickly reply to a text message!
In the middle of an email and get a text message? Quick Reply will pop-up, you simply type the reply, press Send and then continue emailing, quick, convenient and fast.
* New improved video and audio icons for MMS messages.