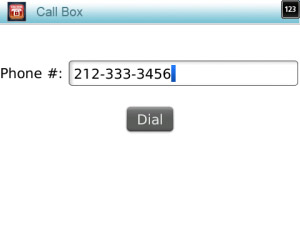 Tag:
Call Box
Overview :
Call Box v1.2.0 (OS 4.5)
Model:
Blackberry 83XX Series (320*240) Curve Devices Models: 8300, 8310, 8320, 8330 / Blackberry 87XX Series (320*240) Devices Models: 8700c, 8700r, 8700f, 8700g, 8703e, 8707, 8707g, 8707v .etc /Blackberry 88XX Series (320*240) Devices Models: 8800, 8820, 8830 .etc

Description
Half the time you don't know where your smart phone is. Or who's using it! The kids? A co-worker? The snoopy neighbor?
Hey, you got your life stored on that cell and you want your information and settings in a lock-tight box, right? Then you want Call Box, the hot lock app from JaredCo.
You loan your BlackBerry® to a friend to make a call. You hand it off to your kid on date night or let a co-worker call home. Okay. Fine. But you don't want that caller poking through your contacts list, address book or other personal information stored on that BlackBerry®.
Call Box puts all personal information out of reach of anyone who uses your BlackBerry® to make a call.
Call Box locks up personal information and settings but still lets your teen call home.
Call Box is PIN protected. No one gets in unless you let them in.
Hand off your cell without worrying that your sensitive data may be compromised.
Simple to install; a snap to set up. Activate and relax. Your personal information is boxed up tight.
So loan your phone with confidence. Call Box keeps your personal info in a strong box while keeping the lines of communication open. Call Box is another functional app with purpose from JaredCo.
We design them. We build them. We support them.