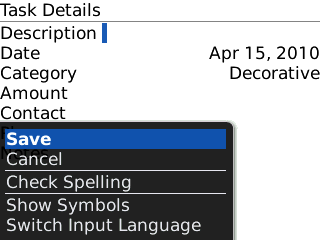 Tag:
Ideal
Home Manager
Overview :
Ideal Home Manager v1.0 for blackberry apps
Description:
A comprehensive home management utility that track Tasks, Home Inventory, Location, Media and Loan Information. Features an easy user interface that will make your home happy and secure.
Ideal Home provides the best place to store your Home and Office information. With Ideal Home, you have a place to store Task Lists, Home Inventory, Location, Media, Loan and Pictures of your home. Includes extensive search options, and can be searched by name, category, date, month and more. A Complete Home Management Utility.
Product Features:
Professionally designed user-interface
All data is stored in sortable format.
Can also be used to store office information
Sub-details can be added and are included in the search function
Model:
Blackberry 72XX Series (240*160) Devices Models: 7200, 7210, 7230, 7250, 7270, 7280, 7290, 7510, 7520, 6510/Blackberry 71XX Series (240*260) Devices Models: 7100, 7110t, 7105t, 7100r, 7100v, 7100g, 7100x, 7100i, 7130e, 7130c, 7130g, 7130v/Blackberry 81XX Series (240*260) Pearl Devices Models: 8100, 8110, 8120, 8130/Blackberry 82XX Series (240x320) Pearl Flip Devices Models: 8200, 8220, 8230/Blackberry 8350i (320*240) Related Devices Model: 8500, 8520/Blackberry 83XX Series (320*240) Curve Devices Models: 8300, 8310, 8320, 8330 / Blackberry 87XX Series (320*240) Devices Models: 8700c, 8700r, 8700f, 8700g, 8703e, 8707, 8707g, 8707v .etc /Blackberry 88XX Series (320*240) Devices Models: 8800, 8820, 8830 .etc /Blackberry 89XX Curve Series (480*360): 8900(Javelin), 8910(Atlas)/Blackberry 90XX Bold (Onyx) Series (480*320) Devices Models: 9000, 9020(Onyx)/Blackberry 96XX Tour (Niagara) Series (480*360):9600, 9630, 9650(Tour2), 9700(Bold2) /Blackberry 95XX Storm Series (360*480):9500, 9510, 9520, 9530, 9550(Storm2)