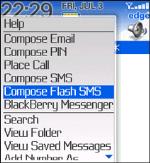 Tag:
Flash SMS
Overview :
free Flash SMS apps for blackberry download
Description:
Flash SMS allows you quickly and easily send SMS which immediately appears on recipient phone's display.
Just imagine: you send SMS to your friend or workmate and it pop-ups immediately on his/her phone's display! No additional software on recipient's side is required. Just install Flash SMS to your Blackberry and enjoy!
There are 3 easy steps to send Flash SMS:
1. Go to the Messages Application and select 'Compose Flash SMS' from the menu.
2. Select recipient from the list and then recipient's phone number.
3. Type text you wish to send and select 'Send' from the menu.
Note: Sending or receiving flash messages may not be supported by the carrier or recipient's mobile phone.

Here are some key features of "Flash SMS (BlackBerry)":
· Send Flash SMS as easy as usual SMS
· Choose recipient's phone number from your Address Book
· No additional software on recipient's phone is required
Requirements:
· BlackBerry OS 4.2.1 to 4.7

Model:
Blackberry 71XX Series (240*260) Devices Models: 7100, 7110t, 7105t, 7100r, 7100v, 7100g, 7100x, 7100i, 7130e, 7130c, 7130g, 7130v/Blackberry 81XX Series (240*260) Pearl Devices Models: 8100, 8110, 8120, 8130/Blackberry 82XX Series (240*320) Pearl Flip Devices Models: 8200, 8220, 8230/Blackberry 8350i (320*240) Related Devices Model: 8500, 8520, 8530, 9300(Kepler), 9330/Blackberry 83XX Series (320*240) Curve Devices Models: 8300, 8310, 8320, 8330 / Blackberry 87XX Series (320*240) Devices Models: 8700c, 8700r, 8700f, 8700g, 8703e, 8707, 8707g, 8707v .etc /Blackberry 88XX Series (320*240) Devices Models: 8800, 8820, 8830 .etc /Blackberry 89XX Curve Series (480*360): 8900(Javelin), 8910(Atlas), 8930, 8950, 8980/Blackberry 90XX Bold (Onyx) Series (480*320) Devices Models: 9000, 9020(Onyx)/Blackberry 96XX Tour (Niagara) Series (480*360):9600, 9630, 9650(Tour2), 9700(Bold2), 9780 /Blackberry 95XX Storm Series (360*480):9500, 9510, 9520, 9530, 9550(Storm2), 9570(Storm3), 9800(Torch)