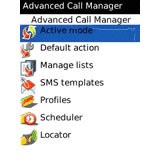 Tag:
Manager
Advanced
Call
Overview :
free Advanced Call Manager v2.70 Apps for blackberry

Advanced Call Manager for BlackBerry.
Take control of your time!
Are you busy, constantly in important meetings and discussions? Is your mobile always ringing at a bad moment?
All you need to be in control is the Advanced Call Manager! It will handle the incoming calls for you and personalize your approach to the callers - play an instant busy tone / drop the call, send a kind SMS, mute the ringer or pick up and hang up the phone.
ACM handles your incoming calls with a personalized approach to different callers - it accepts, rejects, sends a personalized SMS, mutes the ringer or instantly picks up and then hangs up. You can easily save different profiles and schedule them according to time or location.
With Advanced Call Manager you can organize your phone book into custom lists like Black list (people you don't like to disturb you), White list (important people who are "allowed" to call you) or any other custom list (a very special group could be your family to which you may wish to send a personal SMS if they call during a business meeting).
ACM enables you to set different actions for the groups you have defined - you can accept, reject, send personalized SMS, mute the ringer or pick up and hang up. With SMS templates you can set special messages for each group very easily.
The Advanced Call Manager lets you tune your mobile into several modes:
* Accept all calls (inactive)
* Reject all calls
* Accept Phonebook only
* Reject from black list (you have to define the list in advance)
* Accept from white list (you have to define the list in advance)
* Reject all + custom action (e.g. send SMS to your wife or girlfriend if she calls)
Supported Reject Actions:
* Send busy tone / drop
* Reply by SMS
* Mute the ringer
* Pick up and hang up
New in version. 2.70
* New call handling option - Pick up and hang up
* Ability to import contacts from the Call log when creating lists
* Application re-branded to Melon Mobile
Languages:
Advanced Call Manager is available in *English, *French, *Italian, *German, *Spanish and *Bulgarian
Supported Devices:
BlackBerry Slider, BlackBerry Curve 8910, BlackBerry Tour 2 9650, BlackBerry Pearl 9100, BlackBerry Bold 9700, BlackBerry Storm 2 9550, BlackBerry Storm 2 9530, BlackBerry Storm 2 9520, BlackBerry Curve 8530, BlackBerry Tour 9630, BlackBerry Storm 9530, BlackBerry Storm 9500, BlackBerry Bold 9000, BlackBerry Bold 9900, BlackBerry Curve 8900, BlackBerry Curve 8300, BlackBerry Curve 8310, BlackBerry Curve 8320, BlackBerry Curve 8330, BlackBerry Curve 8350i, BlackBerry Curve 8520, BlackBerry Curve 8930, BlackBerry Curve 9220, BlackBerry Pearl Flip 8230, BlackBerry Pearl 8220, BlackBerry Pearl 8130, BlackBerry Pearl 8120, BlackBerry Pearl 8100, BlackBerry Pearl 8110, BlackBerry 8800, BlackBerry 8820, BlackBerry 8830 World Edition, BlackBerry 8700, BlackBerry 8703, BlackBerry 8707, BlackBerry 7130
Registration Information:
Trial version is limited to 30 incoming calls. The full version of the software is unlocked by a license file provided upon purchase. After completing the purchase, select "Activate" from the application menu to register ACM via Internet. The license is based on unique device PIN and cannot be retrieved and applied to other handsets.
Features:
Ultra-fast recognition and capturing of incoming calls, leaving the caller unaware of your current un/availability
Support of Profiles to keep typical frequently used scenarios and settings
Handling of Hidden callers to help you avoid people whose numbers cannot be retrieved
Tight integration with the contacts from the phone book
Automatic Profiles activation based on your Location and Time of day
Feature-rich, making it possible to effectively handle any situation and all incoming call traffic
Auto-run at power-on

Minimum Requirements:
BlackBerry OS version 4.2.1 or higher
Display Dimensions
160x160, 240x160, 240x240, 240x260, 240x320, 320x240, 480x320, 480x360
Operating System
4.2, 4.3, 4.5, 4.6, 4.7 Non-Touch, 4.7 Touch Screen, 5.0 Non-Touch, 5.0 Touch Screen

Model:
Blackberry 82XX Series (240*320) Pearl Flip Devices Models: 8200, 8220, 8230/Blackberry 8350i (320*240) Related Devices Model: 8500, 8520, 8530, 9300(Kepler), 9330/Blackberry 83XX Series (320*240) Curve Devices Models: 8300, 8310, 8320, 8330 / Blackberry 87XX Series (320*240) Devices Models: 8700c, 8700r, 8700f, 8700g, 8703e, 8707, 8707g, 8707v .etc /Blackberry 88XX Series (320*240) Devices Models: 8800, 8820, 8830 .etc /Blackberry 89XX Curve Series (480*360): 8900(Javelin), 8910(Atlas), 8930, 8950, 8980/Blackberry 90XX Bold (Onyx) Series (480*320) Devices Models: 9000, 9020(Onyx)/Blackberry 96XX Tour (Niagara) Series (480*360):9600, 9630, 9650(Tour2), 9700(Bold2), 9780 /Blackberry 95XX Storm Series (360*480):9500, 9510, 9520, 9530, 9550(Storm2), 9570(Storm3), 9800(Torch)/Blackberry Pearl 3G Series (360*400) Devices Models: 9100, 9105, 9670(Style)