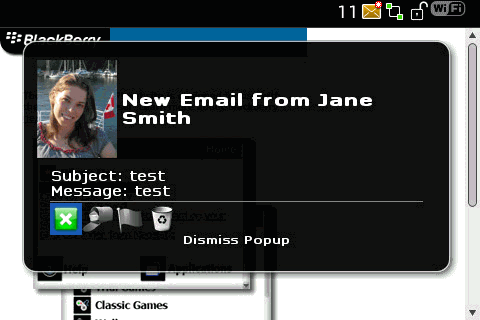 Tag:
Email
SPAM Blocker
PeeKaWho
SMS Alerts
Overview :
PeeKaWho - THE ORIGINAL and AWARD WINNING Email and SMS Alert/Notifier!
Don't you wish BlackBerry had an email notifier popup like the one you are used to in MS Outlook or Gtalk Notifier (Growl on the Mac). Stop wishing and get PeeKaWho. With it, you can get critical information from your emails fast.
With PeeKaWho, you can see who is emailing (with brief email body) while drafting another email, playing your favorite game or other tasks on your BlackBerry.
VOTED 2008 BEST UTILITY BY CrackBerry. com
NAMED Must Have BlackBerry Application on CIO.com and LaptopMagazine.com
Free 7 Day Trial - GET IT TODAY.
* Voted the 2008 BEST UTILITY BY CrackBerry.com
* Featured on CIO.com Magazine and Laptop Magazine as Must Have BlackBerry application
* SPAM Blocker - Create Whitelist and Blacklist to filter emails and email popup. With Blacklist, you have the option to auto delete junk.
* See Contact Picture in email/sms popup - NEW FEATURE - so you know who is emailing you without reading!
* Advance Feature function, prevent popup alerts when you don't want them
* EXTRA FEATURE - PeeKaLight - using your BB LED as Flash Light
* EXTRA FEATURE - LED Alerts function (blinking vs on)
* Visually Stunning design
* No setup fuss. No pain. It Just Works!
* FREE LIFE TIME UPGRADE
Display Dimensions
240x240, 240x260, 320x240, 480x320, 480x360
Operating System
4.1, 4.2, 4.3, 4.5, 4.6, 4.7 Non-Touch, 4.7 Touch Screen, 5.0 Non-Touch, 5.0 Touch Screen

Model:
Blackberry 82XX Series (240*320) Pearl Flip Devices Models: 8200, 8220, 8230/Blackberry 8350i (320*240) Related Devices Model: 8500, 8520, 8530, 9300(Kepler), 9330/Blackberry 83XX Series (320*240) Curve Devices Models: 8300, 8310, 8320, 8330 / Blackberry 87XX Series (320*240) Devices Models: 8700c, 8700r, 8700f, 8700g, 8703e, 8707, 8707g, 8707v .etc /Blackberry 88XX Series (320*240) Devices Models: 8800, 8820, 8830 .etc /Blackberry 89XX Curve Series (480*360): 8900(Javelin), 8910(Atlas), 8930, 8950, 8980/Blackberry 90XX Bold (Onyx) Series (480*320) Devices Models: 9000, 9020(Onyx)/Blackberry 96XX Tour (Niagara) Series (480*360):9600, 9630, 9650(Tour2), 9700(Bold2), 9780 /Blackberry 95XX Storm Series (360*480):9500, 9510, 9520, 9530, 9550(Storm2), 9570(Storm3), 9800(Torch)/Blackberry Pearl 3G Series (360*400) Devices Models: 9100, 9105, 9670(Style)