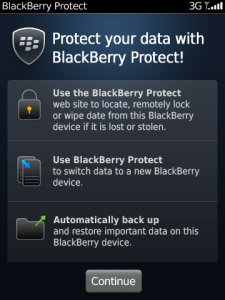 Tag:
Protect
Overview :
BlackBerry Protect v1.1.1.65 apps free download
Required Device Software:
Smartphone: 4.6.0 or higher

Description:
BlackBerry® Protect is a free application designed to keep your information secure if your BlackBerry® smartphone goes missing. If you're on an applicable consumer data plan (enterprise plans are not supported at this time), you can download BlackBerry Protect and then log into the website where you can lock, locate or wipe your smartphone from wherever you are. You can also choose to have your crucial data backed up wirelessly and automatically, as often as you choose (daily, weekly, or monthly).
Manage multiple users with BlackBerry Management Center: http://www.blackberry.com/managementcenter
**BlackBerry Protect version 1.1.1.65 is and update for BlackBerry 7 devices only. The correct version for your specific device will automatically be selected for you from App World when you click to download
Can't find your BlackBerry? Go to www.blackberry.com/protect to
-Locate it on a map
-Set a password and lock it to protect your information
-Wipe all the contents
-Make your BlackBerry ring loudly to help find it
-Display a message on the homescreen instructing whoever finds it on how to return it
Wireless Backup and Restore
-Wirelessly back up contacts, calendar, memos, tasks, browser bookmarks, and text messages
-Automatically back up daily, weekly, or monthly
-Wirelessly restore your backed up data when switching to a new BlackBerry
-Save on data usage by:
-Only backing up information that has changed from the previous backup (incremental backups)
-Only backing up over WiFi
-Preventing backup while roaming
Important Notes
-BlackBerry Protect is free to all users on supported BlackBerry data plans. Contact your carrier to upgrade if your plan is not supported.
-BlackBerry Protect is not compatible with devices that use the BlackBerry Enterprise Server or BlackBerry Enterprise Server Express.
For all technical support with BlackBerry Protect, please visit http://us.blackberry.com/support/software/protect.jsp
For billing issues and technical support options related to App World only, please visit http://www.blackberry.com/support/appworld.
Direct support is unavailable through the "Contact Support" button.