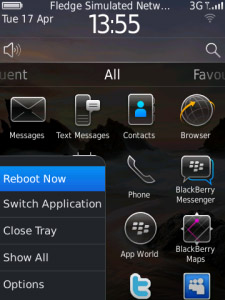 Tag:
Instant Rebo
Overview :
free Instant Reboot v1.2.0 for OS 5.0,6.0,7.0 apps
size: 104 KB
model: Pearl 9100 3G, Pearl 9105 3G, Curve 8520, Curve 8530, Curve 8900, Curve 8910, Curve 8980, Bold 9000, Curve 9300 3G, Curve 9330 3G, Tour 9630, Bold 9650, Style 9670, Bold 9700, Bold 9780, Bold 9788, Curve 9220, Curve 9350, Curve 9360, Curve 9370, Storm 9500/9530, Storm2 9550/9520, Torch 9850/9860, Torch 9800, Curve 9380, Bold 9790, Torch 2 9810, Bold 9900/9930, 9981
Description:
Now rebooting your device No more battery pulling or pressing too many keys for reboot. Now you can restart your phone from any where with a little menu everywhere on you phone. Just by clicking 'Reboot Now' menu you can reboot your device.
Instant Reboot can be used to restart and reset your phone when some app hang your device.
Features:
1. Restart your device with one Click.
2. Add a menu everywhere on your device so that you can reboot your phone from anywhere and any time.
User Reviews:-
By: Tammy_Sammy
This is a gr8 app I like how it is incorporated into the menu so that u can reboot at anytime without draining ur battery 5 thumbs up
By: 2jaguar6
I deleted my current reboot app and downloaded this one, its a must have !!!
By: Mommai75
Unlike quick pull, this one can be done from anywhere as it is added in the menu.