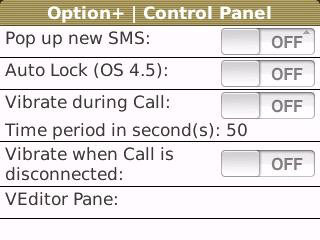 Tag:
OptionPlus
DauDen
Overview :
OptionPlus v1.1.3 ( os4.5, 4.6, 4.7 )
size: 98 KB
model: Pearl 8100, Pearl 8110, Pearl 8120, Pearl 8130, Pearl Flip 8220, Pearl Flip 8230, Curve 8300, Curve 8310, Curve 8320, Curve 8330, Curve 8350i, Curve 8520, Curve 8530, 8700, 8707, 8800, 8820, 8830, Curve 8900, Curve 8910, Curve 8980, Bold 9000, Storm 9500/9530, Storm2 9550/9520

Description:
OptionPlus is an application running as a service that helping you control easily a calling.
The application will notify you when the call is connected. so you don't need to put the phone on ear too soon.
It also put some utility to global menu to help you quickly access such as: flash, contact.

Features:
*Vibrate when connected: you make a call phone, when another person accept it, the application will intermediately notify you by vibration.
*Vibrate when disconnected: when one of you or another person hand-off the call, the application will also intermediately notify you by vibration.
*Vibrate during call: periodically notify you on the during call by vibration. You can customize the period time.
*Handle new number: after you finished the call, the small popup screen would be displayed to help you add the phone number to new or update existing contact.
*Put shortcut Flash-light and Insert-contact to global menu. In any-screen, you can quickly enable flash to lighting or easily insert contact to SMS, mail, note.
Note:
*The application support English and Vietnamese language.
Please contacts us for comments or suggestions: sd@viethop.net

If you like the app, Please share to your friends!