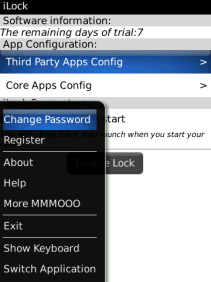 Tag:
MMMOOO
9981 apps
iLock Lite
Overview :
free iLock Lite v2.1.4 for os5.0-7.0 apps
iLock Lite is MMMOOO company introduced a free BlackBerry application lock application, that can help you lock any third party or Blackberry procedures to protect your privacy.

OS 5.0,6.0,7.0
size:85.18 KB
Model: Pearl 9100 3G, Pearl 9105 3G, Curve 8520, Curve 8530, Curve 8900, Curve 8910, Curve 8980, Bold 9000, Curve 9300 3G, Curve 9330 3G, Tour 9630, Bold 9650, Style 9670, Bold 9700, Bold 9780, Bold 9788, Curve 9350, Curve 9360, Curve 9370, Storm 9500/9530, Storm2 9550/9520, Torch 9850/9860, Torch 9800, Curve 9380, Bold 9790, Torch 2 9810, Bold 9900/9930, 9981

Description:
★★★V2.1.4, Perfect version of iLock, 500,000+ users' recognition.
***Regional Selections Winners of 2010 BlackBerry(R) Super Apps Challenge.

***Lite version allows you lock 2 apps for most at setting. You can buy full version to lock unlimited apps; or leave a constructive comment to win full licenses via email.
Case study:
1. Want to show your friend some content in your phone, but you dont want the contacts or SMS app accessible, then iLock is the one.
2. Lock single photo
3. Lock a folder
4. Lock 3rd party apps
User's feedback: Stops my friends use Facebook to look at my photos and connections!
Features:
1. Free for all lige time;
2. The best app for pretecting privacy in your phone;
3. Lock/hide whatever you want;
4. Powerful "add manually" function.
Guarantee satisfaction:
If you find a bug or have a feedback, kindly write an email to us, we can provide revision ASAP.Be so kind and don't leave a malicious comment.