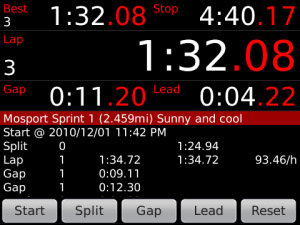 Tag:
StopWatch
Bluefriday
ProTimer
Overview :
ProTimer Stopwatch v1.3.0 (try) - blackberry apps
OS 4.5,4.6,4.7,5.0,6.0,7.0
size:121.32 KB
Model: Pearl 8100, Pearl 8110, Pearl 8120, Pearl 8130, Pearl Flip 8220, Pearl Flip 8230, Pearl 9100 3G, Pearl 9105 3G, Curve 8300, Curve 8310, Curve 8320, Curve 8330, Curve 8350i, Curve 8520, Curve 8530, 8700, 8707, 8800, 8820, 8830, Curve 8900, Curve 8910, Curve 8980, Bold 9000, Curve 9300 3G, Curve 9330 3G, Tour 9630, Bold 9650, Style 9670, Bold 9700, Bold 9780, Bold 9788, Curve 9350, Curve 9360, Curve 9370, Storm 9500/9530, Storm2 9550/9520, Torch 9850/9860, Torch 9800, Curve 9380, Bold 9790, Torch 2 9810, Bold 9900/9930, 9981

Description:
Advanced Circuit Timer for BlackBerry®
** Now with New Interval Timer
** 24 hour Free Trial available
ProTimer Stopwatch is an advanced circuit timing app for the BlackBerry® platform. Designed in consultation with professional coaches, ProTimer includes all the advanced stopwatch features you would expect to find in a professional chronometer.
ProTimer Stopwatch has an advanced feature set suitable for:
- Motorsports, Racing, Karting, or Rally
- Physical Education, Track and Field, Cross Country
- Running, Swimming, Biking, Rowing
- Workout, Interval Training, Weights
- Soccer, Hockey, Game Timer
- Many, many more applications
Plus because it's a BlackBerry®, your results are automatically recorded and can be saved or emailed with just a click. Now you can leave your clipboard at home.
Fully Featured Stopwatch
- Multimode Stopwatch
- Advanced Lap/Split timer
- Best/Worst/Average Lap Time and Speed
- Measure Gaps to leader and Followers
- Speed and Distance calculations
Interval Timer
- Configurable Rounds and Intervals (100x25)
- Warning beeps before end of Intervals
Countdown/Stroke/Pace Timers
- Countdown timer with alarm
- Stroke calculator
- Pace setter
Additional Features
- 1/100th second resolution
- Near unlimited memory
- Records results for later review
- Save and Email results easily
- Runs in the background
SUPPORT IS FREE:
- If you get the "java.lang.Error", please delete the icon, reboot the phone, and install again.
- Storm & Torch 9850 devices must disable "Compatability Mode" for this app in BB Options
App World has been having some trouble with licensing lately and some of our customers have had trouble installing. Before leaving a negative review, please contact us for supportat info@bluefriday.ca. We get you going.
We are interested in all forms of feedback. We strive to make this the best stopwatch app available. If you feel it is missing something, we want to hear it.