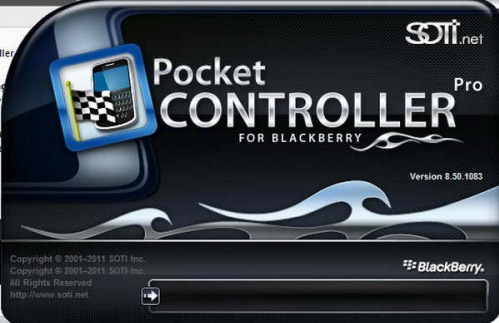 Tag:
Pocket
Controller
Overview :
free SOTI Pocket Controller-Pro v8.5 for BlackBerry download
Required Device Software
4.6.0 or higher

Description
BlackBerry® Messenger from your Desktop Computer! Yes, you can now use BlackBerry® Messenger with a full keyboard! Control your BlackBerry® remotely from your desktop with SOTI Pocket Controller-Pro for BlackBerry®! SOTI's award-winning software offers a combination of real-time remote control, presentation and synchronization tools all in one product (10 tools in 1 product).
Pocket Controller-Pro for BlackBerry® supports OS 4.6 and above and can connect to your device via Bluetooth, Wi-Fi or USB.
NOTE:
Pocket Controller-Pro has a software component that runs on your phone and a component that runs on your desktop PC. The PHONE COMPONENT IS FREELY available to download. The DESKTOP COMPONENT MUST BE PURCHASED from http://www.soti.net/PCProBB/Default.aspx upon completion of the free trial period.
LIMITED TIME OFFER: Enter in Promo Code "BBAPPWORLD" to receive 50% off during purchase!!
Features:
BlackBerry® Messenger on your Desktop: Securely send BlackBerry® Messenger messages from your Desktop.
Remote Control: View and control your BlackBerry® smartphone from your desktop to enhance quality and productivity.
Training / Presentation Tools: Display your BlackBerry® in real-time on either a projector or web presentation via your PC to create efficient and professional presentations to train and educate.
File Explorer Tool: Transfer, edit and manage the file system of your PC and BlackBerry® simultaneously.
File Synchronization: Automatically synchronize your data files (e.g. pictures, video files, documents, etc.) between your PC and BlackBerry®.
Printing: Create professional training materials by printing BlackBerry® screenshots using SOTI's unique skin technology.
Service Books: Monitor all of your Service Books in full detail for easy troubleshooting.
Task Manager Tool: View detailed information about applications/processes running on your device.
Screen / Video Capture: Capture screens to GIF, BMP, JPG and PNG file formats and record videos in WMV and AVI formats.

System Information Tool: Monitor vital system information, such as battery levels, memory utilization, operating system and processor information.
Notifications: Stop switching back and forth between your computer and BlackBerry smartphone! View pop up notifications on your PC from your Blackberry smartphone and respond back to emails, SMS and phone calls immediately from your computer .
Application Switcher: Switch to any application running on your BlackBerry smartphone quickly and easily! The Application Switcher allows you to always have a view of your currently running apps so you can switch between them with a single click of your mouse.
Notifications Panel: Don't worry about missing a notification popup or a recent email. Notifications get stored in the Notifications Panel so you can easily retrieve and respond to any recent message on your BlackBerry smartphone from your desktop.