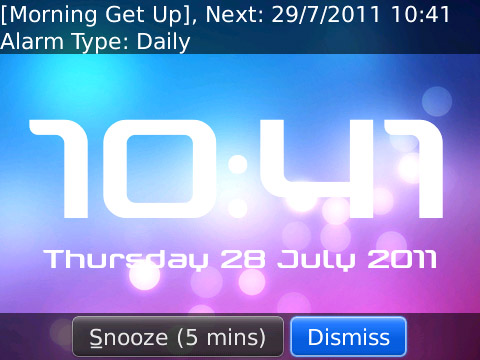 Tag:
Clock
King
Overview :
Clock King V1.22 FOR BB os5.0+ apps
Required Device Software
4.6.0 or higher
Supported devices:
Blackberry 9300(Kepler), 9330/Blackberry 89XX Curve Series (480*360): 8900(Javelin), 8910(Atlas), 8930, 8950, 8980/Blackberry 90XX Bold (Onyx) Series (480*320) Devices Models: 9000, 9020(Onyx)/Blackberry 96XX Tour (Niagara) Series (480*360):9600, 9630, 9650(Tour2), 9700(Bold2), 9780, Dakota, Apollo /Blackberry 95XX Storm Series (360*480):9500, 9510, 9520, 9530, 9550(Storm2), 9570(Storm3), 9800(Torch), 9810/9850/9860(Torch2)/Blackberry Pearl 3G Series (360*400) Devices Models: 9100, 9105, 9670(Style)/Blackberry 99XX (OS 7.0) Series (640*480) Devices Models: 9900, 9930
Description:
Clock King is an enhanced alarm application for BlackBerry phones which supports multiple alarms with mp3/wma ringtone and .jpg background.
It is a best choice to replace alarm feature in your phone's Clock application.
Key Features
Supports multiple alarms.
Supports ringtone/vibration/led flashing as Clock application in your phone.
Supports music from your SD card or phone as background sound.
Supports picture from your SD card or phone as background in alarm screen.
Supports many kinds of repeat models: once/minutely/hourly/daily/weekly/weekends/weekdays/monthly/yearly/ and others.
Supports two kinds of beautiful text fonts.
Supports color settings for alarm text.
Supports unlimited alarms in theory.
Supports alarm even in power off mode.
Supports next alarm time reminder on the main screen of your phone.
No background thread/task in your phone to avoid burden to your phone.
Supported Devices
Support all kinds of BlackBerry phones(OS 5.0, 6.0, 7.0 or higher).
Support both QWERTY and TOUCH models.