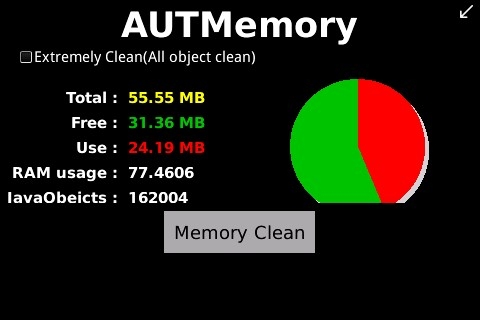 Tag:
9800 apps
9780 apps
AUTMemory
Overview :
free AUTMemory v2.5.1 for os5.0 BlackBerry Devices
Required Device Software
5.0.0 or higher
Description
AUTMemory FREE VERSION: +AD. little slow.

AUTMemory is simple and easy memory cleaner as you can see.
Want to free up shared memory on your device? This memory must be shared with other background processes and other apps like Mail, Browser, SMS.... . and this Apps continue running after you closed. Have you expericed your apps or games slowing? You can just click Clean Memory in Any menu.

*You can select option : Extremely clean all of wasted system memory
*You can clean anywhere in other applications
You can view:
*Runtime RAM memory usage
*Java obejcts numbers
Please leave review