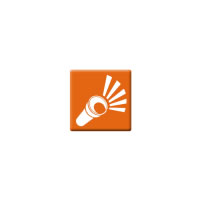 Tag:
9800 apps
FlashBack
Overview :
Model:
BlackBerry 9000,BlackBerry 9100,BlackBerry 9670,BlackBerry 9700,BlackBerry 9780,BlackBerry 9800
Description:
FlashBack is a free flashlight application that uses your camera flash LED to light your way. A simple big button interface makes it simple to use.
Features:
FREE!
Uses your camera LED flash.
Turns the LED on application startup. Just fireup the app, and your light is on instantly.
LED will remain on even if your screen turns off, so there is no need to keep hitting a button to keep the light on (OS5 only).
Supports BlackBerry® 6.0 devices including the BlackBerry® Torch™ 9800.