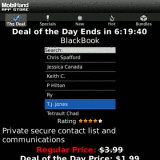 Tag:
BlackBerry
Superstore
Overview :
BlackBerry Superstore v2.02 - best blackberry apps

Description:
The BlackBerry Superstore by MobiHand makes it easy to browse, search, purchase and download BlackBerry applications, themes, games, and accessories directly from your phone. The Superstore is designed to show titles and accessories that are compatible with your smartphone.
All of the applications, games, and themes featured in the MobiHand Superstore can be downloaded easily over the air (OTA).
Features:
The BlackBerry Superstore by MobiHand includes four isles, through which users can discover new and always up-to-date content for their smarphones. All four aisles include:
Deal-of-the-Day - a new best-selling app every day at a deep discount.
Specials - loads of discounted apps in every category -- with support for coupon codes for extra-special, limited-time offers.
Bundles - save even more on bundles.
Top Apps - browse the most popular free and paid apps.
Category Browsing - browse the catalog by category and subcategories to quickly find what you're looking for.
Detailed application descriptions - Product detail includes star ratings and user reviews. Add your own ratings and reviews right from your phone.
Huge and continuously growing catalog of apps and themes - new apps and themes are being added every day.
Automatic device detection - ensuring that the apps that appear are compatible with your particular BlackBerry phone.
Easy download and installation - OTA delivery right to your BlackBerry phone.
Account history - Access to your MobiHand account with complete purchase history. Store and re-download your purchased apps in your MobiHand account or from any other store.
Optimized checkout - Once you're registered, just login then purchase with a few clicks.

Minimum Requirements:
(non-touch)
Display Dimensions
160x160, 240x160, 240x240, 240x260, 240x320, 320x240, 360x400, 360x480, 480x320, 480x360
Operating System
4.2, 4.3, 4.5, 4.6, 4.7 Non-Touch, 5.0 Non-Touch, 6.0 Non-Touch
Model:
Blackberry 81XX Series (240*260) Pearl Devices Models: 8100, 8110, 8120, 8130/Blackberry 82XX Series (240*320) Pearl Flip Devices Models: 8200, 8220, 8230/Blackberry 8350i (320*240) Related Devices Model: 8500, 8520, 8530, 9300(Kepler)/Blackberry 83XX Series (320*240) Curve Devices Models: 8300, 8310, 8320, 8330 / Blackberry 87XX Series (320*240) Devices Models: 8700c, 8700r, 8700f, 8700g, 8703e, 8707, 8707g, 8707v .etc /Blackberry 88XX Series (320*240) Devices Models: 8800, 8820, 8830 .etc /Blackberry 89XX Curve Series (480*360): 8900(Javelin), 8910(Atlas), 8930, 8950, 8980/Blackberry 90XX Bold (Onyx) Series (480*320) Devices Models: 9000, 9020(Onyx)/Blackberry 96XX Tour (Niagara) Series (480*360):9600, 9630, 9650(Tour2), 9670, 9700(Bold2), 9780 /Blackberry 95XX Storm Series (360*480):9500, 9510, 9520, 9530, 9550(Storm2), 9570(Storm3), 9800(Torch)/Blackberry Pearl 3G Series (360*400) Devices Models: 9100, 9105