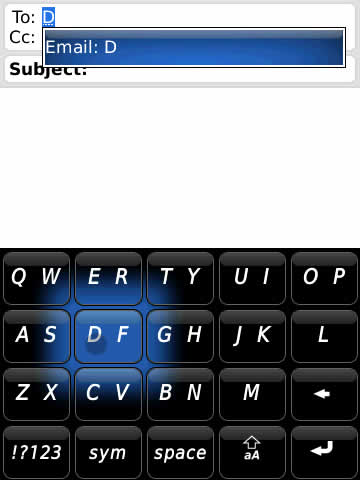 Tag:
Keyboard
Lightning
Overview :
free Lightning Keyboard Pro v.2.03 for blackberry storm apps
Description:
Where there is Storm, there is lightning. Lightning Keyboard - makes a perfect Storm!
BlackBerry Storm (Storm2) is great. If there is anything to complain, it is the built-in keyboard. Lightning Keyboard fundamentally changes the way you type on touch-screen BlackBerry - easy and productive to type, minimal and convenient to configure, fun and amusing to use, extending your phone's lifetime by avoiding the mechanical impact of old way of typing.
Seeing is believing. Free trial for 100 times of typing. Buy today to lock down the introductory price, and get unlimited free upgrades!
Lightning Keyboard is developed by Ottafone Inc, a proud partner of RIM. All rights reserved. Patent pending. For more information, please visit Ottafone website.
Features:
Easy to pin-point a letter to type
iPhone style typing prompt
Flexible way (touch or touch&hold or press) to type
More common characters on the spot
Redo/Undo functions
Convenient and fun typing sound control
Typing history for quick copy
Navigation assistance
And more ...
Minimum Requirements:
BlackBerry Storm or Storm2 (OS4.7.0 and above)
Display Dimensions
360x480, 480x360
Operating System
4.7 Touch Screen, 5.0 Touch Screen, 6.0 Touch Screen
Model:
Blackberry 95XX Storm Series (360*480):9500, 9510, 9520, 9530, 9550(Storm2), 9570(Storm3), 9800(Torch)