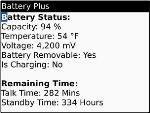 Tag:
bold apps
BatteryBoste
Overview :
free BatteryBoster v2.2.2 apps for blackberry
Description:
Benefits: Enhance the current battery runtime.
No new hardware: Software only solution. No additional hardware needed!
Easy: Just install and save battery.
Convenience: Can run in background: BlackBerry® can be used for other purposes as well.
Features:
Battery saving recommendations for BlackBerry® settings: best practice backlight timeout and brightness settings for battery preservation.
Automatic battery saving mechanisms when devices is not used: radio or WiFi connections might not be necessary when the device is locked.
Low signal radio saver: a BlackBerry® phone searches extensively for better network coverage when the radio reception is low, this wastes an tremendous amount of power and drains the battery very quickly. BatteryBooster can now switch off your radio if reception is too low.
Fully configurable battery saving options.
Plus TWO Applications included for Free!
PowerControl is a neat battery saving tool! It allows you to schedule your device to turn off and back on when you want. Multiple off/on schedules are possible and can save a lot of power!
+++ Sells for $9.99 separately, but now FREE with BatteryBooster! +++
SmartWiFi saves battery by turning off WiFi when not needed and turning back on when needed. For example, WiFi being switched on is not needed when you commute between office and home. When WiFi is off battery is saved.
Model:
Blackberry 81XX Series (240*260) Pearl Devices Models: 8100, 8110, 8120, 8130/Blackberry 82XX Series (240*320) Pearl Flip Devices Models: 8200, 8220, 8230/Blackberry 8350i (320*240) Related Devices Model: 8500, 8520, 8530, 9300(Kepler), 9330/Blackberry 83XX Series (320*240) Curve Devices Models: 8300, 8310, 8320, 8330 / Blackberry 87XX Series (320*240) Devices Models: 8700c, 8700r, 8700f, 8700g, 8703e, 8707, 8707g, 8707v .etc /Blackberry 88XX Series (320*240) Devices Models: 8800, 8820, 8830 .etc /Blackberry 89XX Curve Series (480*360): 8900(Javelin), 8910(Atlas), 8930, 8950, 8980/Blackberry 90XX Bold (Onyx) Series (480*320) Devices Models: 9000, 9020(Onyx)/Blackberry 96XX Tour (Niagara) Series (480*360):9600, 9630, 9650(Tour2), 9700(Bold2), 9780 /Blackberry 95XX Storm Series (360*480):9500, 9510, 9520, 9530, 9550(Storm2), 9570(Storm3), 9800(Torch)/Blackberry Pearl 3G Series (360*400) Devices Models: 9100, 9105, 9670(Style)