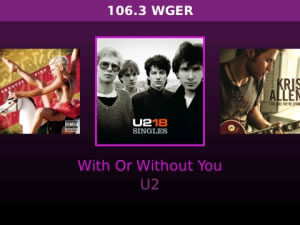 Tag:
Radio
Nobex
Companion
Overview :
free Nobex Radio Companion for blackberry apps

Sports, Music or News, Never miss your favorite radio programs again!
The free version Nobex Radio Companion lets you:
Listen to radio stations in your country for free! (With the premium version you can listen to over 6700 radio stations from more than 100 countries). Streaming is done either over WiFi, or through the carrier's network. If you have problems streaming, send us an email to support@nobexinc.com and we'll guide you how to set up the connection to the carrier network.
Get Songs with a single click, right from your mobile device. Or, receive an email with links to buy the song on your PC, so you can always keep your music collection fresh!
Hear Song Snippets if you're not sure if the song you just missed is the one you have been wanting to download.
Run Nobex Radio Companion on sleep timer - choose anywhere between 15 minutes to 2 hours.
Post your favorite song or station directly to your Facebook wall with a click of a button
Stations streamed by Nobex Radio Companion include KROQ, Hot 97 (WQHT), KBPA, Q101 and many many others.
Nobex Radio Companion: Never miss your favorite radio program again!

Model:
Blackberry 81XX Series (240*260) Pearl Devices Models: 8100, 8110, 8120, 8130/Blackberry 82XX Series (240*320) Pearl Flip Devices Models: 8200, 8220, 8230/Blackberry 8350i (320*240) Related Devices Model: 8500, 8520, 8530, 9300(Kepler), 9330/Blackberry 83XX Series (320*240) Curve Devices Models: 8300, 8310, 8320, 8330 / Blackberry 87XX Series (320*240) Devices Models: 8700c, 8700r, 8700f, 8700g, 8703e, 8707, 8707g, 8707v .etc /Blackberry 88XX Series (320*240) Devices Models: 8800, 8820, 8830 .etc /Blackberry 89XX Curve Series (480*360): 8900(Javelin), 8910(Atlas), 8930, 8950, 8980/Blackberry 90XX Bold (Onyx) Series (480*320) Devices Models: 9000, 9020(Onyx)/Blackberry 96XX Tour (Niagara) Series (480*360):9600, 9630, 9650(Tour2), 9700(Bold2), 9780 /Blackberry 95XX Storm Series (360*480):9500, 9510, 9520, 9530, 9550(Storm2), 9570(Storm3), 9800(Torch)/Blackberry Pearl 3G Series (360*400) Devices Models: 9100, 9105, 9670(Style)