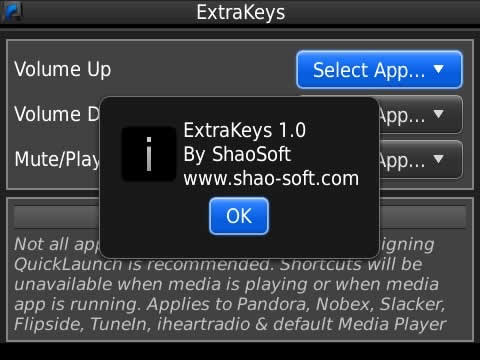 Tag:
ExtraKeys
Overview :
ExtraKeys 1.0.4 (free trial) for blackberry apps

3 extra convenience keys! Launch applications using your volume and mute keys.
Always wished you could have an extra convenience key? Now you can have up to 3 extra! Get things done quicker with easy access to the applications you use the most. You can assign applications to your Volume Up, Volume Down and Mute/Play keys.
Assign which application you want to launch with each key and you're done, it's that simple!
FREE trial available, you have nothing to lose.
Features:
Lightweight and efficient
Doesn't conflict when playing music and you need your volume keys
Won't drain your battery

Model:
Blackberry 9300(Kepler), 9330/Blackberry 89XX Curve Series (480*360): 8900(Javelin), 8910(Atlas), 8930, 8950, 8980/Blackberry 90XX Bold (Onyx) Series (480*320) Devices Models: 9000, 9020(Onyx)/Blackberry 96XX Tour (Niagara) Series (480*360):9600, 9630, 9650(Tour2), 9700(Bold2), 9780 /Blackberry 95XX Storm Series (360*480):9500, 9510, 9520, 9530, 9550(Storm2), 9570(Storm3), 9800(Torch)/Blackberry Pearl 3G Series (360*400) Devices Models: 9100, 9105, 9670(Style)