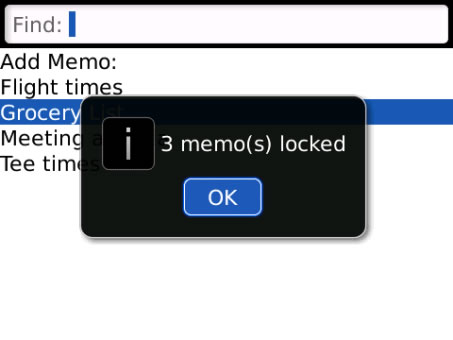 Tag:
MemoLock
Overview :
free blackberry apps : MemoLock apps for blackberry
Have you ever wished that your BlackBerry® provided a password protect feature for the MemoPad application? If so, then MemoLock is for you. Simple but powerful, MemoLock will add a Lock/Unlock option to the standard MemoPad application which will finally let you protect those sensitive memos. And because this is an extension to the standard MemoPad application--not a replacement--all of the other BlackBerry and Desktop applications that sync and interact with MemoPad will work just as they always have.
MemoLock allows you to encrypt memos in place or hide them from view completely. After you choose which memos to protect, they're locked and unlocked as a group using a single password. This provides security while giving you quick access to your information. A configurable AutoLock feature will remember to re-lock your memos if you forget, and the main application icon clearly shows you whether they're locked or unlocked right from the Home Screen. Extensive help is available right from the application.
Users of MemoLock are also given free access to WebLock. This web-based tool which can also be downloaded allows you to encrypt/decrypt MemoLock compatible memos from the desktop. WebLock lets users of BlackBerry Desktop, MS Outlook, Lotus Notes and other applications freely work with encrypted memos with or without their BlackBerry smartphones.
After purchasing a MemoLock license, you are entitled to unlimited free upgrades and technical support from skilled developers.
So try MemoLock for free today. We're confident it's just what you've been looking for.
(Important: Be sure to take advantage of our free trial to make sure MemoLock meets your needs BEFORE purchasing it.)
For more information on MemoLock, including release information and software updates, please visit: http://61moons.com or write us at support@61moons.com
Model:
Blackberry 83XX Series (320*240) Curve Devices Models: 8300, 8310, 8320, 8330 / Blackberry 87XX Series (320*240) Devices Models: 8700c, 8700r, 8700f, 8700g, 8703e, 8707, 8707g, 8707v .etc /Blackberry 88XX Series (320*240) Devices Models: 8800, 8820, 8830 .etc