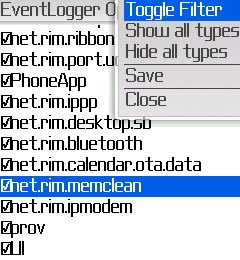 Tag:
curve apps
LogCut
Overview :
free LogCut apps for blackberry download
LogCut adds an icon that opens the phone's built-in event log viewer / manager. The log viewer shows many details of the phone's operational history, including messages from apps intended to help with customer service and debugging. The viewer can clear the log, filter it for easier searching, and copy parts of it to send to support personnel.
This icon may only be needed by users of the Storm 2 and the Storm with BlackBerry OS 5.0. However, it should work on all devices and OS versions in current use, for those who need or prefer an icon to start the log viewer.
The paid version of LogCut also adds an Options category where you can set it to automatically erase the log, and/or run the system memory cleaner and/or garbage collector, at time intervals or at trigger points such as when you power the phone on or off. It can be set to not hinder you if you're active, or only do this automatic cleaning when the display is off.

Requirements:
· BlackBerry OS 4.2.1 or newer

Model:
Blackberry 71XX Series (240*260) Devices Models: 7100, 7110t, 7105t, 7100r, 7100v, 7100g, 7100x, 7100i, 7130e, 7130c, 7130g, 7130v/Blackberry 81XX Series (240*260) Pearl Devices Models: 8100, 8110, 8120, 8130/Blackberry 82XX Series (240*320) Pearl Flip Devices Models: 8200, 8220, 8230/Blackberry 8350i (320*240) Related Devices Model: 8500, 8520, 8530, 9300(Kepler), 9330/Blackberry 83XX Series (320*240) Curve Devices Models: 8300, 8310, 8320, 8330 / Blackberry 87XX Series (320*240) Devices Models: 8700c, 8700r, 8700f, 8700g, 8703e, 8707, 8707g, 8707v .etc /Blackberry 88XX Series (320*240) Devices Models: 8800, 8820, 8830 .etc /Blackberry 89XX Curve Series (480*360): 8900(Javelin), 8910(Atlas), 8930, 8950, 8980/Blackberry 90XX Bold (Onyx) Series (480*320) Devices Models: 9000, 9020(Onyx)/Blackberry 96XX Tour (Niagara) Series (480*360):9600, 9630, 9650(Tour2), 9700(Bold2), 9780 /Blackberry 95XX Storm Series (360*480):9500, 9510, 9520, 9530, 9550(Storm2), 9570(Storm3), 9800(Torch)/Blackberry Pearl 3G Series (360*400) Devices Models: 9100, 9105, 9670(Style)