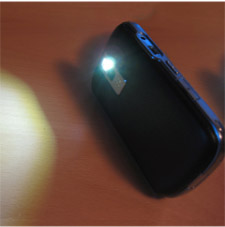 Tag:
Flashlight
One Touch
Overview :
os 7.0
size: 145 KB
model: 9850, 9860

Description:
***NOW ON SALE FOR LIMITED TIME***
Don' t listen to the not worth it folks. This flashlight app is fantastic! The One Touch Flashlight helped me find my keys, my cigar, my way out of the dark woods, and my spare battery. - Jeff
** Rated Top 5 Blackberry Apps by Fortune Magazine in August 31st Edition! **
We offer a 100% money back guarantee directly from JaredCo for anyone who asks (PayPal Acct Required)
Unlike most flashlight apps, One Touch Flashlight employs BlackBerry's video light, NOT the dim, LED screen light, delivering more light more quickly.
What makes JaredCo's Flashlight better than other flashlight apps?
- The brightest flashlight when and where you need it.
- The original flashlight BlackBerry® app to use BlackBerry's® video light source rather than the low-light LED screen employed by other, so-called flashlight apps.
- Flashlight uses less power. It stays on until you turn the flashlight off.
- One touch on/off icon for the flashlight lets you see trouble before it becomes trouble.

- Most downloaded flashlight app on App World.
- Only flashlight app to be in the Top 25 for 1 year with over 1700 great reviews for the One Touch Flashlight.
JaredCo's Flashlight: Because you just never know when you'll need to see the light.
REQUIREMENT: This flashlight app works on BlackBerry® smartphones with operational video recorders with flash. For BlackBerry® smartphones with no camera/video flash, Flashlight will make your front screen and front LED bright and white as the flashlight. Flashlight can stay on as long as you want. Use this flashlight hands free. The flashlight can be turned on with a convenience key if you want.
Keywords: flashlight, flash, light, flashlite, flash-light, flash-lite, lite, bright, LED, screen, white, white light
Check out the reviews for this flashlight.