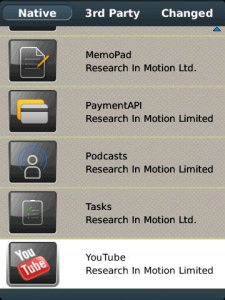 Tag:
ChangeIt
Inmax Media
Overview :
ChangeIt v1.0.0 - Rename applications and Replace native icons with Fancy Icons for applications installed on your BlackBerry®
size: 289 KB
model: Pearl 9100 3G, Pearl 9105 3G, Curve 8520, Curve 8530, Curve 8900, Curve 8910, Curve 8980, Bold 9000, Curve 9300 3G, Curve 9330 3G, Tour 9630, Bold 9650, Style 9670, Bold 9700, Bold 9780, Bold 9788, Curve 9220, Curve 9350, Curve 9360, Curve 9370, Storm 9500/9530, Storm2 9550/9520, Torch 9850/9860, Torch 9800, Curve 9380, Bold 9790, Torch 2 9810, Bold 9900/9930, 9981
Description:
Are you getting bored of the native Media icons or you have just installed any Theme for your BlackBerry® and wish you could change some of the Media icons like Camera, Music, Twitter, YouTube, Video and more.
Now you can with Custom Media Icons. The application allows you to change the Normal and Rollover icons.
Moreover, you can Rename the installed apps in your own Native Language!
ChangeIt automatically backups your icons and Default App name to the SD Card so that you can Restore the icons & App Name whenever you want to.
Features:-
- Change Normal and Rollover icons
- Change the Application name
- Use any image file as your icon
- Restore / roll back all the changes made in a single click
- Supports BlackBerry OS5 and Higher

Try it, you won't regret it!