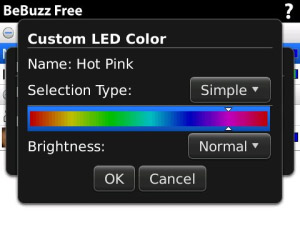 Tag:
BeBuzz
8800 apps
8700 apps
Overview :
Free BeBuzz v5.0.27 - LED Light Colors os4.5 apps
size: 633 KB
model: Pearl 8100, Pearl 8110, Pearl 8120, Pearl 8130, Curve 8300, Curve 8310, Curve 8320, Curve 8330, Curve 8350i, 8700, 8707, 8800, 8820, 8830
Description:
Control your BlackBerry's front LED color to see who is contacting you without picking up the phone! Green for calls from your boss, pink for e-mails from your girlfriend, blue for text messages from your kids.
With more than 10 Million downloads and multiple awards BeBuzz is one of the most popular apps for BlackBerry smartphones ever!
*** Featured on the official InsideBlackBerry blog as an AppWorld success story ***
*** Voted #1 BlackBerry App Developer of the Year 2010 by CrackBerry! ***
*** Nominated for the CrackBerry App Award 2010 "Best Utility - OS enhancement" ***
We love hearing from you! If you feel you need to rate us anything below 5 stars, please email us or visit our forums to give us a chance to resolve your issues and to provide you with assistance: support@bellshare.com / http://www.bellshare.com/forum

FEATURES:
- Choose from 20 predefined solid LED and 12 rapid flashing DISCO LED COLORS
- Assign colors for E-Mails, SMS and Calls from your FAVORITE CONTACTS
- This FREE version is limited to 5 CONTACTS
- Create an unlimited number of CUSTOM LED COLORS and DISCOS
- STACK 2 LED COLORS for even more color variations
- On-Screen Popup Notifiers: Unobtrusive on-screen messages ("toasts") for messages and events
- Vibrate-While-Ringing: Have vibrate while ringing for notifiers and incoming calls.
- Vibrate/sound on call connect/disconnect
- Fully customizable and doesn't drain your battery!
**************************
Many additional features and UNLIMITED CONTACTS available in the FULL VERSION! Search for "BeBuzz" or go to http://appworld.blackberry.com/webstore/content/534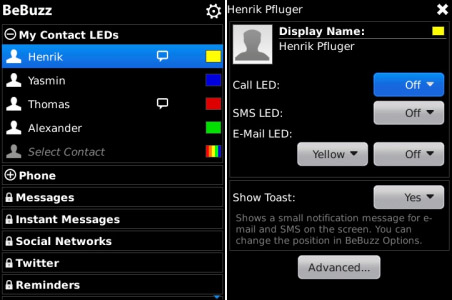 If you like the app, Please share to your friends!