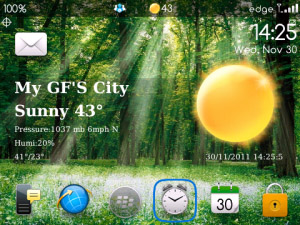 Tag:
9900 apps
9790 apps
XWeather
Overview :
Free XWeather v1.8.0301 for blackberry os4.7,5.0,6.0,7.0 apps
size: 801 KB
model: Pearl 9100 3G, Pearl 9105 3G, Curve 8520, Curve 8530, Curve 8900, Curve 8910, Curve 8980, Bold 9000, Curve 9300 3G, Curve 9330 3G, Tour 9630, Bold 9650, Style 9670, Bold 9700, Bold 9780, Bold 9788, Curve 9350, Curve 9360, Curve 9370, Storm 9500/9530, Storm2 9550/9520, Torch 9850/9860, Torch 9800, Curve 9380, Bold 9790, Torch 2 9810, Bold 9900/9930, 9981
Description:
IMPORTANT TIPS:
1:PLEASE UNINSTALL BEFORE INSTALLING THE NEW VERSION
2:TRY CHANGE THE APP CONNECTION TYPE IF YOU CAN'T FIND ANY CITY.AND MAKE SURE YOU HAVE GOOD INTERNET CONNECTION.
3:ALLOW ALL REQUIRED PERMISSION FOR XWEATHER IN TERMS TO ENABLE FUNCTIONS LIKE WALLPAPER WEATHER WIDGET.
4:IT'S A BETTER WAY TO PUT ALL YOUR WALLPAPER IMAGES INTO THE SAME DIRECTORY IN YOUR SD CARD.

Changelog in V1.7.1215:
1:Fixed the bug of switching between simple view and forecast view.
2:Fixed the bug of unable to quit the app.
3:Fixed the bugs of exceptions.
4:Fixed the bug of loading wallpaper background images.
5:Fixed the bugs of misspellings.
5:Fixed the bugs of input box for email and city.
6:Enhanced the effect of display in the newest OS.
7:Added forecast for wind.
8:Update all cities weather data via one click.
9:Added UV Index data.
XWeather is the fastest and the most accurate weather app for BlackBerry®.The Creator of beautiful curve of the temperature trend.Push and DIY the weather info widget into your home screen wallpaper.Vivid homescreen icons and inner Pages Layout.Steady and smooth functions with accurate weather forecast.Supports English and Traditional Chinese.Keep up to 10 cities at the same time and switch between them with a flick of the trackpad or a swipe on your touchscreen.

Main features:
1:Push the weather widget in your homescreen wallpaper.DIY the weather widget with hundreds options(OS4.7 and above).
2:Customizable homescreen icon showing current conditions.
3:Completely customize XWeather via themes, background wallpaper, font and icon sizes.
4:Accurate weather data info.
5:Multi-languages support(more language will be available later).
6:Current conditions including "Feels like" temperature, wind, pressure, UV, humidity.
7:Six days wind forecast.
8:Easily switch between different views (Current, Daily Forecast, wind Forecast etc).
9:Supports most cities in the world.
10:Automatically track and switch your cities via GPS/cell.
11:Max and min temperature in the day and visibility data.
12:100% AD FREE.
13:Switch unit between Metric(Celsius) and English(Fahrenheit).
14:Status bar weather icon for current weather conditions(OS4.7 and above).
15:Automatically switch your homescreen wallpaper.
16:Customizable schedule update frequency and pause.
17:Perfectly support for OS4,OS5,OS6,OS7 devices.
18:Automatically switch among WIFI,BIS,BES,TCP/IP(OS5 and above).
19:Update all cities weather data via one click.
More features will be avaliable in the next release.

this is trial version,unlock your copy please go to our website (www.berryset.com) or download the pro version from:http://appworld.blackberry.com/webstore/content/57042 (one-time charge, no other fees).We will post a full free release soon.

Come on, download this apps for your phone.