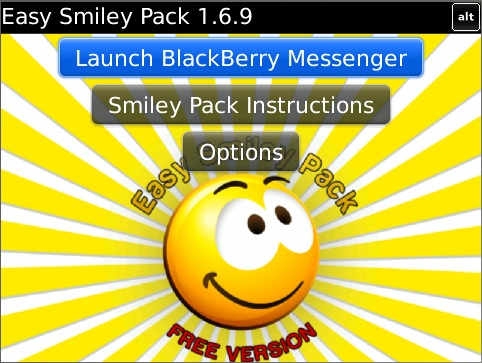 Tag:
9810 apps
Easy Smiley
s4bb​
Overview :
Easy Smiley Pack v2.1.3 for BlackBerry® Messenger
OS 5.0,6.0,7.0
Model: Pearl 9100 3G, Pearl 9105 3G, Curve 8520, Curve 8530, Curve 8900, Curve 8910, Curve 8980, Bold 9000, Curve 9300 3G, Curve 9330 3G, Tour 9630, Bold 9650, Style 9670, Bold 9700, Bold 9780, Bold 9788, Curve 9350, Curve 9360, Curve 9370, Storm 9500/9530, Storm2 9550/9520, Torch 9850/9860, Torch 9800, Torch 2 9810, Bold 9900/9930

Description:
The Easy Smiley Pack for BlackBerry® Messenger provides access to hidden smileys and emoticons right inside your BlackBerry® Messenger. Customize your BlackBerry® Messenger messages now and surprise your buddies! Also new is the BlackBerry® Messenger status customization, you can now add smileys and flags, and digits to your BBM status and profile name! This is a BBM™ Connected application.
Features:
* 630+ Smileys, flags, and ASCII art images in total now
* 250+ Smileys
* 210+ new country flags added
* 150+ ASCII art images added
* BlackBerry® Messenger status customization
* Digit to digit box translation
* Plugs into BlackBerry® Messenger through BBM™ Connected
* Complete instructions
* BlackBerry® Messenger can be launched out of application
* Easy usage
Note: These icons will even show up in your friend's BlackBerry® Messenger who does not have this app installed. Cool, right?
Minimum requirement: BlackBerry® Messenger 6.0.129 or above and OS 6.0 or above.
If you like this app, please write a review.