Tag:
bold
9800 apps
Storm
curve
torch
tour
Travel
Overview :
BlackBerry Travel v1.1.42.99 Apps free download
Supported devices:
Blackberry 83xx, 85xx, 89xx, 9000, 9100, 93xx, 95xx, 96xx, 97xx, 9800, 99xx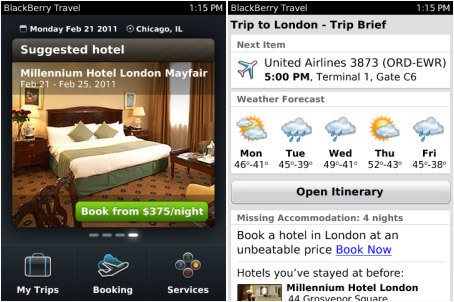 Description
BlackBerry® Travel™ makes it easy to plan, book, manage and share your travel activities. Looking for flights or places to stay? Find flight schedules and great hotel options, all right from your BlackBerry. The automatic trip scanning feature will automatically recognize itineraries that are emailed to you and push them to your BlackBerry – no matter where you booked. It can even identify gaps – like a hotel stay that ends a night earlier than it should – and make recommendations which you can book right from your BlackBerry. If your flight's delayed or your connection changes, BlackBerry Travel will automatically push notification alerts to your device to keep you informed. With clever tools like a currency converter, weather forecast for your destination, local search to find what you need while on the road and the BlackBerry Travel Web Portal, you'll be well-prepared, even for multi-leg journeys. Sharing your upcoming travel plans is easy too – the app helps you do it quickly by email or over LinkedIn®. Save time and effort with BlackBerry Travel, wherever life takes you.
Upgrades since V1.0:
- BlackBerry 7 Operating System Support
- Support for BlackBerry Pearl and BlackBerry Style
- Rental Car Booking
- World Clock supporting 60,000 cities WW
- Booking in 20 local currencies
- Updated Weather Icons
- Special Deals Search for Hotels
- Improved Hotel Recommendations
- Now available in 70 countries Worldwide
System Requirements
* data plan including Internet browsing capability (BIS) required

For all technical support with BlackBerry Travel, please visit http://us.blackberry.com/support/software/blackberrytravel.jsp
For billing issues and technical support options related to App World only, please visit http://www.blackberry.com/support/appworld.
Direct support is unavailable through the "Contact Support" button.