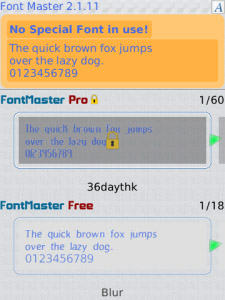 Tag:
bold
curve
torch
Pearl
Font Master
Overview :
Font Master - Fancy Character TrueType Font Collection v2.1.11

Supported devices:
Blackberry 81xx, 82xx, 83xx, 85xx, 87xx, 88xx, 89xx, 9000, 9100, 93xx, 95xx, 96xx, 97xx, 9800
Description
FontMaster is an application that allows you to easily install more TrueType fonts on your BlackBerry® Smartphone.
Features:
* Font listing with 18 pre-loaded fonts
* Font preview, shows which font currently selected
* Font installation and uninstallation
* Pro Version: 60 new "Pro" fonts to choose from
Fonts bundled into the application: Blur, Blurrr Letters, Bo Chen, Chamignon Alt Swash, Dufay, Fifa, Gears of Peace, Jacked, LDR, Mucha, Old Print, Paper Cuts, Perfect Dark Zero, Rune Scape, Taper, Vavont, Vipond, Yapix
If you would like to upgrade to the Pro Version, you may do so within the application itself for $0.99.
Hint:
To change your current font simply install the font you want from the preview list.
If you like the FontMaster, please write a review. Thanks.