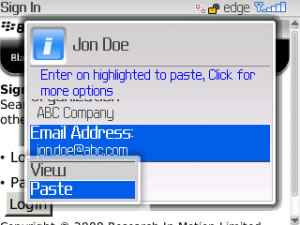 Tag:
9800 apps
9900 apps
9100 apps
QuickCopy
Overview :
QuickCopy v1.0.1 for blackberry apps
Model:
Blackberry 82XX Series (240*320) Pearl Flip Devices Models: 8200, 8220, 8230/Blackberry 8350i (320*240) Related Devices Model: 8500, 8520, 8530, 9300(Kepler), 9330/Blackberry 83XX Series (320*240) Curve Devices Models: 8300, 8310, 8320, 8330 / Blackberry 87XX Series (320*240) Devices Models: 8700c, 8700r, 8700f, 8700g, 8703e, 8707, 8707g, 8707v .etc /Blackberry 88XX Series (320*240) Devices Models: 8800, 8820, 8830 .etc /Blackberry 89XX Curve Series (480*360): 8900(Javelin), 8910(Atlas), 8930, 8950, 8980/Blackberry 90XX Bold (Onyx) Series (480*320) Devices Models: 9000, 9020(Onyx)/Blackberry 96XX Tour (Niagara) Series (480*360):9600, 9630, 9650(Tour2), 9700(Bold2), 9780, Dakota, Apollo /Blackberry 95XX Storm Series (360*480):9500, 9510, 9520, 9530, 9550(Storm2), 9570(Storm3), 9800(Torch), 9810/9850/9860(Torch2)/Blackberry Pearl 3G Series (360*400) Devices Models: 9100, 9105, 9670(Style)/Blackberry 99XX (OS 7.0) Series (640*480) Devices Models: 9900, 9930
Description:
QuickCopy is an Advanced Copy/Paste utility as well as PIM applications launcher designed to make Copy/Paste easier with just few simple clicks AND without requring you to exit the current application. QuickCopy combines the Automatic Paste feature along with PIM Application launch capabilities through QuickCopy Shortcut menu, making Copy/Paste much easier than ever before.
QuickCopy doubles as a View utility as well through QuickCopy Shortcut menu, giving you access to ALL of your PIM data ALWAYS from any native application on the device. While the latest OS versions that feature Switch Application Menu Item provides access to only limited applications that are currently running on the device, QuickCopy fills this void so there is no need to exit the current application ever.
Most common Use Cases for QuickCopy, but not limited to are:
1 While in a browser you can enable QuickCopy to automatically paste contents from your contact where you might have stored the login information in the form of an email address or any user defined field
2 You can use QuickCopy to automatically paste contents of Pre-canned message templates stored in your Memopad to quickly respond to recurring replies
3 While you are on a phone call, with QuickCopy, you can also quickly review data stored in your Tasks & Memopad in addition which is not easily readily available.
4 Integration with Third Party Applications that support BlackBerry® default menu items allows for quick interchange of PIM data with these applications like for example Facebook etc.
5 With QuickCopy, since it provides access to all PIM data from within all PIM applications, you can now create a memo from an email & vice versa, task from an appointment & vice versa and so on, enabling free flow of data exchange between all the native PIM applications.
6 Cleanup your duplicate contacts from your Address Book with ease using the automatic paste feature of QuickCopy