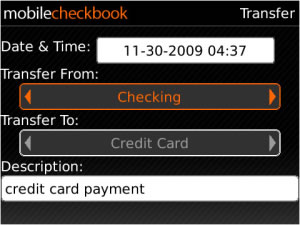 Tag:
Mobile
Checkbook
Overview :
Mobile Checkbook v4.0.4.1 for best free blackberry apps download
Model:
Blackberry 95XX Storm Series (360*480):9500, 9510, 9520, 9530, 9550(Storm2), 9570(Storm3), 9800(Torch), 9810/9850/9860(Torch2)
Description:
The all new Mobile Checkbook 4.0 is now available and loaded with new features that make managing your money easier than ever.
If you have ever had trouble keeping track of your account balances, then the best-selling Mobile Checkbook is for you!
Mobile Checkbook lets you record transactions as they happen, reconcile your balances at any time and schedule recurring transactions on the go.
You will never again be without your up-to-date account balances! Whether you're in the car, at a restaurant or out shopping, Mobile Checkbook gives you immediate access to your current account information from anywhere at any time.
Mobile Checkbook transaction lists can be exported to your e-mail inbox with XLS and QIF attachments for off-phone data backup. Supports an unlimited number of accounts and multiple currencies, including US Dollar, Pound Sterling, Euro, Indian Rupee and more!
New Features include: Reconciliation, Recurring Transactions, Transfer Funds, PIN Code Password Protection, Multi-Currency Support and more!