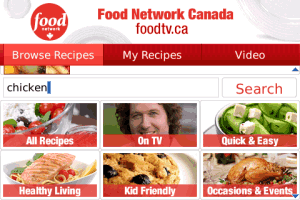 Tag:
Canada
Network
food
Overview :
Model:
Blackberry 81XX Series (240*260) Pearl Devices Models: 8100, 8110, 8120, 8130/Blackberry 82XX Series (240x320) Pearl Flip Devices Models: 8200, 8220, 8230/Blackberry 8350i (320*240) Related Devices Model: 8500, 8520, 8530/Blackberry 83XX Series (320*240) Curve Devices Models: 8300, 8310, 8320, 8330 / Blackberry 87XX Series (320*240) Devices Models: 8700c, 8700r, 8700f, 8700g, 8703e, 8707, 8707g, 8707v .etc /Blackberry 88XX Series (320*240) Devices Models: 8800, 8820, 8830 .etc /Blackberry 89XX Curve Series (480*360): 8900(Javelin), 8910(Atlas)/Blackberry 90XX Bold (Onyx) Series (480*320) Devices Models: 9000, 9020(Onyx)/Blackberry 96XX Tour (Niagara) Series (480*360):9600, 9630, 9650(Tour2), 9700(Bold2) /Blackberry 95XX Storm Series (360*480):9500, 9510, 9520, 9530, 9550(Storm2)/Blackberry Pearl 3G Series (360*400) Devices Models: 9100, 9105
Description:

Stay connected with Food Network Canada on the go with your BlackBerry!
Features include:
* 10,000+ meal ideas at your fingertips
* How-to video: tips, techniques & recipes
* Search, browse and save recipes
* "Recipe of the Day" daily updates
About Food Network Canada:
As the destination for Canadians to have the most fun food experiences, Food Network delivers a schedule of the most entertaining programs from the U.S. alongside great Canadian programming and popular shows from Britain and outside North America - resulting in riveting series and specials, passionate chefs, creative hosts and behind-the-scenes access to the food industry.
For more information, please visit www.foodtv.ca.