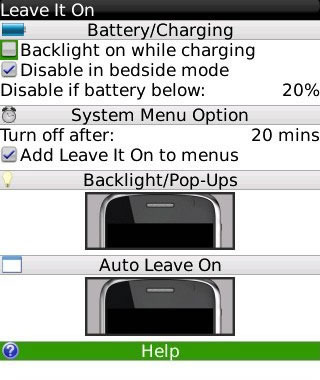 Tag:
Leave
Overview :
free Leave It On V2.0.0 apps for blackberry download
Description:
Leave It On allows you to selectively enable some of the procedures backlight on and automatically disable in low battery. For the latest version 2.0, it adds a function of news pop-up prompts. This function is very useful. It supports most of the native or the third-party software of BlackBerry. It will prompt message if your software receives new one. And it can also set the display time if you press the space bar to go directly to the prompt process. It also perfectly supports IM +, Beejive , UT, SS, SMS, Email, Gmail and other popular BlackBerry softwares.
About the Leave It On v2.0.0 news pop-up prompts, you can set the display time and color. And you can also set the programs which you don't want to prompt. Of course, the basic function of Leave It On the backlight on is as useful as the original version. What's more, it has been greatly improved. If you don't know how to use it, you can read our earlier introduction of the Leave It On.
Leave It On v2.0.0 supports the following softwares to have the function of news pop-up prompts, such as AIM, BBM, e-mail, Facebook, BBM Groups, GTalk, Gmail, ICQ, IM +, Skype, Social Scope, SMS, Twitter for BB, UberTwitter, WhatsApp, WLM , Yahoo.
Applicable systems: OS 4.2, 4.3, 4.5, 4.6, 4.7, 5.0
Model:
Blackberry 81XX Series (240*260) Pearl Devices Models: 8100, 8110, 8120, 8130/Blackberry 82XX Series (240x320) Pearl Flip Devices Models: 8200, 8220, 8230/Blackberry 8350i (320*240) Related Devices Model: 8500, 8520, 8530/Blackberry 83XX Series (320*240) Curve Devices Models: 8300, 8310, 8320, 8330 / Blackberry 87XX Series (320*240) Devices Models: 8700c, 8700r, 8700f, 8700g, 8703e, 8707, 8707g, 8707v .etc /Blackberry 88XX Series (320*240) Devices Models: 8800, 8820, 8830 .etc /Blackberry 89XX Curve Series (480*360): 8900(Javelin), 8910(Atlas)/Blackberry 90XX Bold (Onyx) Series (480*320) Devices Models: 9000, 9020(Onyx)/Blackberry 96XX Tour (Niagara) Series (480*360):9600, 9630, 9650(Tour2), 9700(Bold2) /Blackberry 95XX Storm Series (360*480):9500, 9510, 9520, 9530, 9550(Storm2)/Blackberry Pearl 3G Series (360*400) Devices Models: 9100, 9105