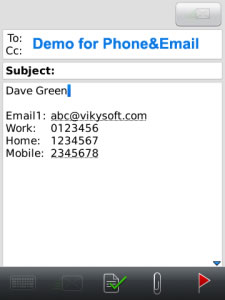 Tag:
xContact
Overview :
free xContact v2.0 blackberry apps download
Description:
With xContact 2.0, you can insert contact info when editing Message, Calendar, Task, Memo and more, in a much improved and well organized way than xContact 1.1.
Full contact info are included in this upgrade, except the privacy info like birthday, anniversary.
When some friends ask you about another friend's phone number and email address, when you wan to add a friend's number in our agenda, when we want to quote a friend's contact info in a memo, xContact will make this quick, direct and natural: It's right there on the menu. Click and select, job is done.
No need to enter address book, copy and paste for that many times.
Check screenshots for details.
You can choose to insert Full info or just Phone&Email.
xContact have no icon on homescreen, you can find xContact on the menu when editing SMS or Email.
Model:
Blackberry 82XX Series (240*320) Pearl Flip Devices Models: 8200, 8220, 8230/Blackberry 8350i (320*240) Related Devices Model: 8500, 8520, 8530, 9300(Kepler), 9330/Blackberry 83XX Series (320*240) Curve Devices Models: 8300, 8310, 8320, 8330 / Blackberry 87XX Series (320*240) Devices Models: 8700c, 8700r, 8700f, 8700g, 8703e, 8707, 8707g, 8707v .etc /Blackberry 88XX Series (320*240) Devices Models: 8800, 8820, 8830 .etc /Blackberry 89XX Curve Series (480*360): 8900(Javelin), 8910(Atlas), 8930, 8950, 8980/Blackberry 90XX Bold (Onyx) Series (480*320) Devices Models: 9000, 9020(Onyx)/Blackberry 96XX Tour (Niagara) Series (480*360):9600, 9630, 9650(Tour2), 9700(Bold2), 9780, Dakota, Apollo /Blackberry 95XX Storm Series (360*480):9500, 9510, 9520, 9530, 9550(Storm2), 9570(Storm3), 9800(Torch), Torch2/Blackberry Pearl 3G Series (360*400) Devices Models: 9100, 9105, 9670(Style)