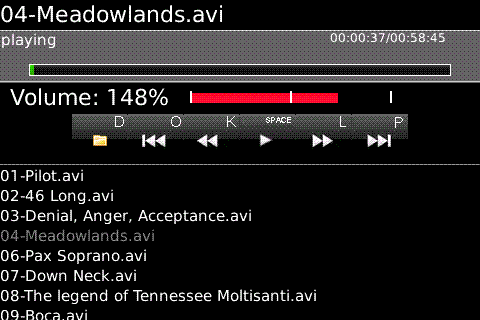 Tag:
Remote
Control
VLC
Overview :
free VLC Remote Control v1.0.0.1 apps for blackberry
Description:
"The team behind the awesome Wi-Fi File Transfer for BlackBerry app have released another hit. Their new app VLC Remote Control lets you control your VLC Player over Wi-Fi ... I have been playing with the app for a few days and am loving it"
BerryReview
"Ahh, finally! A BlackBerry application that helps me control my VLC media player ... Now, after a painful wait for me personally, an app to control VLC from my BlackBerry device is here and works quite well. "
CrackBerry
VLC Remote Control turns your BlackBerry into a fully functional remote control for VLC media player using a WiFi connection - Optimized for playing and navigating video.
Setup:
(For detailed instructions, visit us at: ChocolateChunkApps dot com)
Make sure that the PC/Mac running VLC, and the BlackBerry are on the same WiFi network
Activate the web interface in VLC
Start up VLC remote, and enter the PC/Mac IP address - you are now connected!
Features:
All standard media player controls (play/pause, next/previous, Fast-Forward/Rewind etc)
Live update of VLC media player status including live progress bar, play status and playlist.
Browse your computer? file system from your Blackberry in real time, select a movie/music file (or a whole folder), and click "p" to play and get started.
?lick-and-Scan? use the BlackBerry trackball to scan through a movie to exactly where you want! See where you are scanning to on the progress bar.
Change the volume using volume keys on side of device.
Browse PC/Mac file system in real time (including external drives) and add to playlist instantly.
Select from real time on-screen playlist to switch tracks/video.
Save multiple VLC connections (home, office etc)

Some features and shortcut Keys (these features can all be accessed from non-shortcut menus, buttons etc as well):
Previous/Next track: o/p
RW/FW skip: k/l
Play/Pause toggle: space bar
Volume: Blackberry volume control on side of device
Mute toggle: m
Browse computer hard drive: d
Add to playlist: a
Add to playlist and play: p
Full Screen mode/Minimize mode toggle: f
Minimum requirements:
Operating System
4.5, 4.6, 4.7 Non-Touch, 5.0 Non-Touch
Model:
Blackberry 82XX Series (240*320) Pearl Flip Devices Models: 8200, 8220, 8230/Blackberry 8350i (320*240) Related Devices Model: 8500, 8520, 8530, 9300(Kepler), 9330/Blackberry 89XX Curve Series (480*360): 8900(Javelin), 8910(Atlas), 8930, 8950, 8980/Blackberry 90XX Bold (Onyx) Series (480*320) Devices Models: 9000, 9020(Onyx)/Blackberry 96XX Tour (Niagara) Series (480*360):9600, 9630, 9650(Tour2), 9700(Bold2), 9780 /Blackberry 95XX Storm Series (360*480):9500, 9510, 9520, 9530, 9550(Storm2), 9570(Storm3), 9800(Torch)/Blackberry Pearl 3G Series (360*400) Devices Models: 9100, 9105, 9670(Style)