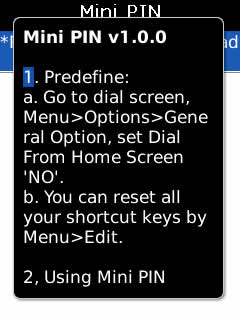 Tag:
Mini PIN
Overview :
Mini PIN - Quick send PIN Message
Description:
Mini PIN allow you to quick send a PIN message via a shortcut key.
kindly input your PIN No. while filling the buying form.
Your PIN number can be located on your BlackBerry smartphone:
1. From the Home screen go to "Options"
2. Select Status.
3. Note your PIN number.
How to install:
To install Mini PIN, download the install files to your PC. Connect your phone to your PC, open your BlackBerry device manager, click Application Loader. Choose MiniPIN.alx and install. Reboot your phone and you can find Mini PIN in Download.
Features:
1. The fastest way to send PIN message
2. Unlimited contacts allowed
3. Multi colors for group manage
4. Sort contact list manually
5. Shortcut key [g] for quick launch
Minimum Requirements:
4.5
Display Dimensions
240x260, 240x320, 320x240, 480x320, 480x360
Operating System
4.5, 4.6, 4.7 Non-Touch, 5.0 Non-Touch
Model:
Blackberry 72XX Series (240*160) Devices Models: 7200, 7210, 7230, 7250, 7270, 7280, 7290, 7510, 7520, 6510/Blackberry 71XX Series (240*260) Devices Models: 7100, 7110t, 7105t, 7100r, 7100v, 7100g, 7100x, 7100i, 7130e, 7130c, 7130g, 7130v/Blackberry 81XX Series (240*260) Pearl Devices Models: 8100, 8110, 8120, 8130/Blackberry 82XX Series (240*320) Pearl Flip Devices Models: 8200, 8220, 8230/Blackberry 8350i (320*240) Related Devices Model: 8500, 8520, 8530, 9300(Kepler), 9330/Blackberry 83XX Series (320*240) Curve Devices Models: 8300, 8310, 8320, 8330 / Blackberry 87XX Series (320*240) Devices Models: 8700c, 8700r, 8700f, 8700g, 8703e, 8707, 8707g, 8707v .etc /Blackberry 88XX Series (320*240) Devices Models: 8800, 8820, 8830 .etc /Blackberry 89XX Curve Series (480*360): 8900(Javelin), 8910(Atlas), 8930, 8950, 8980/Blackberry 90XX Bold (Onyx) Series (480*320) Devices Models: 9000, 9020(Onyx)/Blackberry 96XX Tour (Niagara) Series (480*360):9600, 9630, 9650(Tour2), 9700(Bold2), 9780 /Blackberry 95XX Storm Series (360*480):9500, 9510, 9520, 9530, 9550(Storm2), 9570(Storm3), 9800(Torch)/Blackberry Pearl 3G Series (360*400) Devices Models: 9100, 9105, 9670(Style)