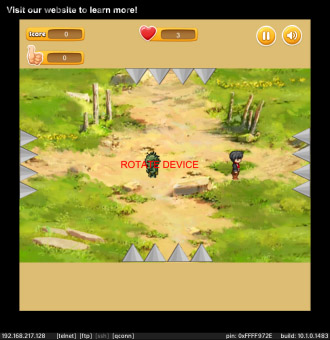 Tag:
BlackBerry Passport
Overview :

This game's goal is to let human pass by removing thrones.
There is intersection and there are 4 ways from it.
Human and zombie apprea randomly in the center.
And they go into one way out of 4 ways.
If human goes, then need to remove thrones.
If zombie goes, then need to install thrones.
Thrones work togglely.
In other words, the thrones will be removed if touch thrones and will be installed if touch removed thrones.
When human goes way safely or zombie is blocked, score will be increased.
When human is blocked or zombie goes safely, score will be increased.
Let human go safely but zombie blocked.
Compare your score with other's in global leaderboard.


Supported Devices:
BlackBerry Leap
BlackBerry Passport
BlackBerry Passport Silver Edition
BlackBerry Q10
BlackBerry Q5
BlackBerry Z10
BlackBerry Z3
BlackBerry Z30
Porsche Design P9982
Porsche Design P9983