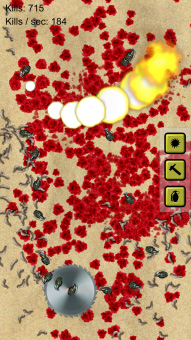 Tag:
iDestroy
Overview :
iDestroy is a simulation game where you destroy bugs endlessly!
In iDestroy you are the ultimate bug killer: Tapping, Smashing, Burning, Freezing and shooting the bloody bugs.
Demolish insects in your pocket with crazy and insane weapons of destruction!
100+ Bugs to demolish! 40+ Weapons to destroy enemies!
Be the ultimate bug exterminator! Blast, Shoot, Burn, Bomb, DESTROY!
* Bloody warfare, Guns and bugs!
* Insane amount of blood!
* Lay high explosive mine traps, call in Airstrikes and declare Victory over the bugs!
* Shoot holes in your phone and fool others to think it's broken!
* Blast Zombies with bombs and torture bugs with awesome war machines!
* Epic ant smashing game that relieves stress in no time with its endless gameplay.
* Be creative! Demolish bugs with Missiles, Gasoline, Mine bombs, Gun Towers, Poison baits & Laser Fences.
Supported Devices:
BlackBerry Classic
BlackBerry Leap
BlackBerry Passport
BlackBerry Q10
BlackBerry Q5
BlackBerry Z10
BlackBerry Z3
BlackBerry Z30
Porsche Design P9982
Porsche Design P9983