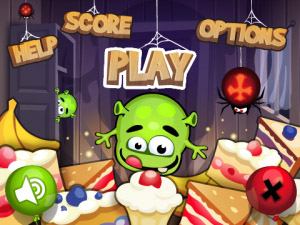 Tag:
Monster Rush
bold game
90xx game
Overview :
FREE Monster Rush v1.0.1 for bb 90xx(480x320)
os:4.6 - 5.0
Model: blackberry bold 9000, 9020
Description
Monster Rush FREE
Monster Rush FREE is fast and dynamic, chaotic and swift, hooking game with an extremely sweet personage.
He is a Monster, not an ordinary one. He is kind and warm-hearted and can't imagine his life without sweet-stuffs. But he has a problem. The name of the problem is Bugs, which are quite annoying and don't let Monster to catch his tasty cakes.
So the principle of the game is the following, a player have to catch as many cakes as he or she can and at the same time try not to run into Bugs. Except Bugs a player can come across green and red balloons. Remember that green balloons bring you some bonuses, while the red ones can hurt you. The more cakes a player catches the more points he or she gets, if a bug hits the monster a player will lose one life.
FEATURES:
- LOVELY DESIGN;
- 3 LEVELS OF DIFFICULTY;
- NICE SOUND.
Escape from Bugs, make Monster happy!
***** Have Fun! *****
If you like this app - please leave a good review. If you don't like it, please contact us first and we will be able to fix your problem for you!
~~ With Love, Your TSV !!! We are the Champions =) ~~