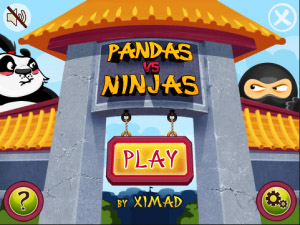 Tag:
Ninjas
Pandas
Overview :
Free Pandas vs Ninjas v1.2.0 games for BB download
Required Device Software
5.0.0 or higher
Supported devices:
Blackberry 85xx, 89xx, 90xx, 91xx, 93xx, 95xx, 96xx, 97xx, 9788, 98xx, 99xx, 9900, 9930


Description:
SALE… get the Premium version of this inspiring game with all levels ABSOLUTELY FREE!
Ninja Shooter, Ninja Breakout.. and.. Pandas vs Ninjas!
This game available now on App World!
Enjoy Pandas vs Ninjas Free with the following features:
- Excellent animated graphics with brave characters
- Beautiful sounds
Let the fight begin!
Help Pandas to defeat Ninjas in this fun and innovative physics-based game!
Defend Pandas' homeland by fighting Ninja invaders and destroying their camps.
Enjoy highly addictive gameplay and realistic physics simulation!
VERSION 1.2:
- 6th scenario added
Have Fun,
XIMAD Team