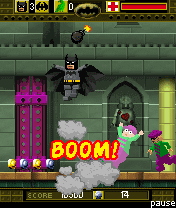 Tag:
Batman
Lego
95xx games
Overview :
Lego Batman for blackberry 95xx games
Model:
Blackberry 95XX Storm Series (360*480):9500, 9510, 9520, 9530, 9550(Storm2)
Description:
Swoop through GOTHAM CITY and bring crooks to justice as BATMAN in this LEGO action adventure. Over 24 levels, you'll get to take on all of the famous foes from the Batman universe including THE RIDDLER, BANE and THE JOKER himself. Use the GRAPPLING HOOK to explore the city and outwit their henchmen as you thwart plans to bring Gotham to its knees.
Featuring context-sensitive one thumb controls, LEGO Batman lets you move from swinging about the city and taking out enemies with the BATARANG, to getting up close and personal with them just like the caped crime-fighter himself. Save GOTHAM from the six super-criminals who are trying to take the city apart piece by piece.