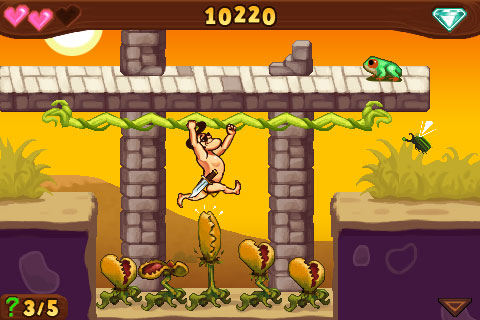 Tag:
storm games
Tarzan
Overview :
Mr. And Mrs. Tarzan
Model:
Blackberry 95XX Storm Series (360*480):9500, 9510, 9520, 9530, 9550(Storm2)
Description:
You Tarzan, she Jane in this hilarious new mobile game featuring the Lord of the Jungle! As Tarzan it's up to you to keep Mrs. Tarzan happy in your jungle home.
Run household errands, dodge dangerous animals, find missing items, and do whatever else it takes to keep Jane happy in over 20 captivating levels. You'll have to be quick on your feet and your vine, though, because the jungle is full of surprises and hidden dangers like killer bees, slithering snakes, hungry plants, and more!
Featuring gorgeous jungle environments, fun challenges, comical characters, and incredible animations, Mr. and Mrs. Tarzan is a wonderful adventure for your mobile phone. Get Mr. and Mrs. Tarzan for your mobile phone today and remember, a happy wife means a happy life! After numerous appearances on TV, radio and theatre, the Lord of the Jungle finally arrives to your mobile phone Help a middle-aged Tarzan protect Jungle Queen Jane from all the dangers lurking in the depths of the jungle Dodge killer bees, snakes and other dangerous animals, while keeping your wife happy!
Over 20 captivating levels in 4 different beautiful jungle environments Fluid animation and humorous cartoon style graphics will make you laugh!