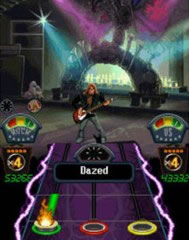 Tag:
Guitar
Hero
World
tour
Backstage Pa
Overview :
Guitar Hero World Tour Mobile: Backstage Pass for blackberry 9800 games download
Description:
No one said that working your way from wannabe to rock star was going to be easy.
To fight your way to the top you will need to promote your band, rehearse your songs and play shows that rock! Earn cash by playing through a range of venues and increase your fame, buzz and street cred.
Backstage Pass features traditional Guitar Hero? gameplay that you've come to love but mixes it up with tons of extra gaming features to bring you the most immersive music simulation game on mobile today.
In addition to the single player campaign, which offers up to 25 hours of gameplay, Backstage Pass offers gamers free access to a companion website designed for the game. Go online and get new music, download new guitars, and challenge rockers from across the world and prove that you have what it takes to become the ultimate rock star.
Features:
* A simulation game based on career progression and performance
* Travel around town promoting the band, leafleting and getting gigs
* Play venues, thrill audiences, create demo tapes, sign record contracts and even handle press interviews
* Increase your fame through playing bigger and bigger venues
* Unique combination of rhythm action mini-games and "life-sim" gameplay!
* Over 25 hours of gameplay - it's not easy to make it to the top
* Go online and download a new guitar, join a contest or get new music!
* Put your cash on the line while competing in contests against other players from across the world

Model:
Blackberry 95XX Storm Series (360*480):9500, 9510, 9520, 9530, 9550(Storm2), 9570(Storm3), 9800(Torch), Torch2